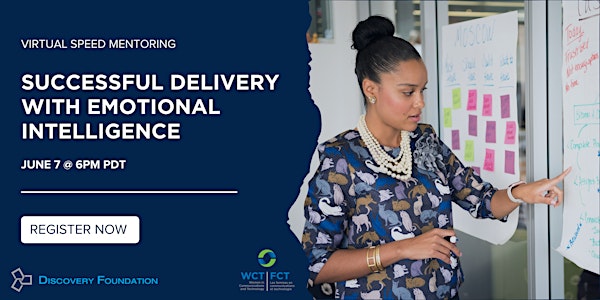 Speed Mentoring Event: Successful Delivery With Emotional Intelligence
Sales Have Ended
Ticket sales have ended
Registration for this event is now closed. Please email BC@wct-fct.com to get added to the waiting list.
Learn more about successful delivery with emotional intelligence with help from our mentors
About this event
Join the Discovery Foundation and Women in Communications & Technology's Virtual Speed Mentoring Event on Tuesday, June 7, to learn how some of BC's most successful women have coped with pressures in their careers and will provide insights into how they learned to engage and delivery successfully with emotional intelligence.
Education and work experience are important ways that we can develop our technical or "hard skills". A recent Forbes article declared that "soft skills" (aka people skills or essential skills) are increasingly necessary to the future of work in a rapidly changing world. How can we learn to better balance the successful delivery of our work projects with emotional intelligence, adaptability, and empathy for ourselves and for others?
We are excited to announce some of your inspiring mentors.
If you are interested in joining the mentor team email bc@wct-fct.com
A Speed Mentoring event consists of a series of short, round-table discussions facilitated by one volunteer mentor and up to three mentees.
Form new connections with both mentors and mentees from a diverse set of backgrounds.
Explore how having a mentor could support you and your career.
Gather a range of new perspectives on a challenge you are currently facing.
Equity, Diversity and Inclusion are important to WCT and our goal is to provide a safe and welcoming space to connect.
How will speed mentoring work online?
Similar to how it would in person. After we all meet together, you'll be allocated to a virtual room with a mentor and up to two other mentees. You'll have 15 minutes to ask questions and hear advice from your mentor, then you'll have a new mentor for 15 minutes and so on.
Share your wisdom and experience by being a mentor yourself
Mentoring is a great way to share your wisdom and develop your own leadership skills. If you are interested in becoming a mentor, please email BC@wct-fct.com to learn how.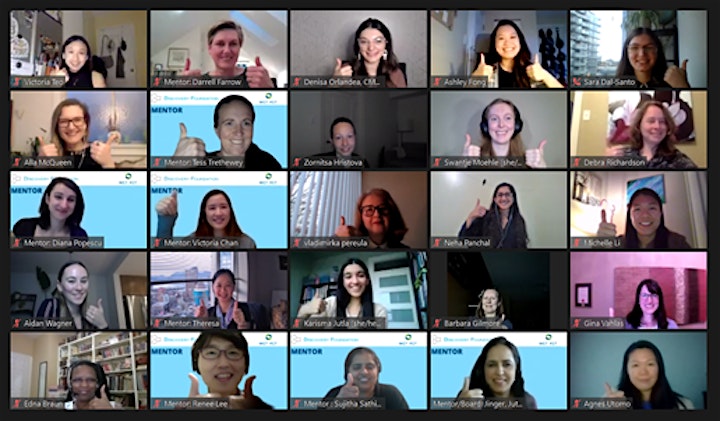 Discovery Foundation's Speed Mentoring Program in Collaboration with WCTBC, is an event series that seeks to provide informal mentoring opportunities to all women, trans and non-binary people working in communications and technology.
**Please note: we have a limited number of sponsored tickets set aside for anyone for whom finances may be a challenge at this time. We would love to have you join!
if you would like to learn more, please email BC@wct-fct.com.