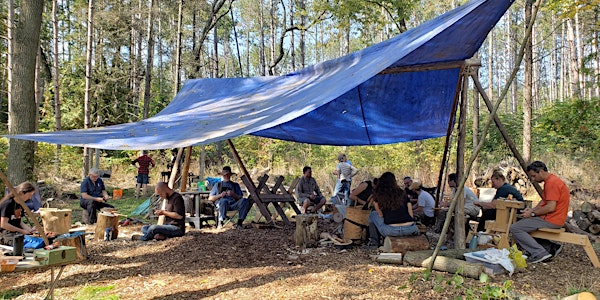 Spoon Moot 2022
Ontario's biggest spoon-carving gathering is in its fourth year- and now a whole weekend!
When and where
Location
Mount Wolfe Farm 10054 Old Church Road Bolton Bolton, ON L7E 0P4 Canada
Refund Policy
Contact the organizer to request a refund.
Eventbrite's fee is nonrefundable.
About this event
Its Spoon Moot time again! Now in our fourth year, come for a day or stay for the whole weekend!
Situated at Mount Wolfe Farm in Caledon, the home of the Ontario Rural Skills Network and Mount Wolfe Spoon Club, you can relax in the woods and orchard of this family-run CSA Farm.
We have something for everyone:
A space to carve in community, to meet old and new friends
Introduction to Spoon Carving workshop for those with no experience;
An Improvers workshop for those who want to develop their skills;
A Sharpening workshop to learn the importance of this all-important skill.
Drop-in workshops: Cordage, Birch-Bark Sheathes (if you have a drop-in mini-workshop you would like to run, get in touch)
Swap/ purchase table for your spoons
Pole-lathing , Chip carving demonstrations
Blacksmithing demonstrations (we have a simple forge on site and Steve from Bad Llama Forge will be working on a project or two)
Schedule (subject to change)
Friday 14th Oct
5pm Onwards: Arrival
6pm Dinner
7pm Opening Ceremony- A simple circle, land acknowledgement and expression of gratitude. Do we have a question for the Moot? (see Moot Definition)
Saturday 15th Oct
8-9am- Breakfast
10am Workshop 1: Intro To Spoon Carving with JIm Jones (@TheHedgeiJim)
11:30: Chip Carving Demonstration with Carl Durance
12:00-1 Lunch
2-3: Workshop 2: Basic Sharpening Workshop (Free)
6:00 Dinner
7:00 Evening Entertainment . We invite you to bring your talents to share around the camp fire: music, songs, storytelling, stand-up- bring what you've got!
Sunday 16th Oct
8-9am- Breakfast
10am Workshop 3: Intermediate Spoon Carving with Steve Hanley (@MethodModern)
12:00-1 Lunch
2-3 Closing Ceremony. A Simple Circle to express gratitude for our weekend. What's the answer to our Moot Question?
Please purchase tickets for main workshops. Timings of Drop-In workshops will be announced
Meals
Mount Wolfe Farm will provide Lunch on Sat, Sun and Dinner on Fri, Sat. We will have oats for breakfast. Please feel free to bring whatever else you might fancy!
At this time we will endeavour to cater for meat-eaters, vegetarians and vegans, please let us know your dietary requirements when booking tickets.
Camping
We invite you to bring your tent and camp at the farm. We have a number of spaces available but please let us know if you would like to camp. Amenities are basic: there will be a porta-potty on site and a long drop toilet, and a sink in the work shed!
Dogs
By arrangement only.
What to Bring
If you have them:
Tools to use and to share
Wood for the carving pile
Clothes for any type of weather!
'MOOT'
Definitions:
Noun an assembly held for debate
Verb raise (a question or topic) for discussion; suggest (an idea or possibility).
Adjective having little or no practical relevance, typically because the subject is too uncertain to allow a decision.