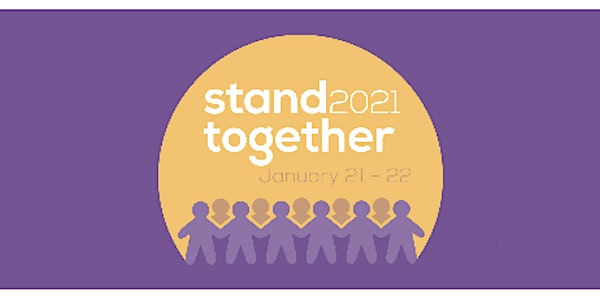 Stand Together 2021
Welcome to the 14th Annual Stand Together Conference! K'aya'chtn (Welcome)AGENDA
Refund Policy
Refunds up to 30 days before event
Eventbrite's fee is nonrefundable.
About this event
The 14th Annual Stand Together is coming to you VIRTUALLY
LEARN GROW CONNECT INSPIRE 
Day 1: Thursday, January 21st, 2021
8:00 – 8:30am: Registration
8:30 - 8:40am: Welcome, Opening Song, Land Acknowledgement
8:40am - 9:00am: Opening Statement- TBA
9:00am – 12:00pm: Intergenerational Trauma Presenter: Emily Henry
12:00 - 12:30pm: Lunch Break and Gift Draw
12:30-12:50pm: AgedOut Presenter: Sarah Kothlow
12:50-1:15pm: Interactive Activity Break
1:15pm – 4:15pm: The Power of Connection Presenter: Brian Dean Williams
4:15pm – 4:30pm: Closing Remarks for First Day and Gift Draw
Day 2: Friday January 22nd, 2021
8:00 - 8:30am: Registration
8:30 - 8:40am: Opening Song, Land Acknowledgement
8:40 - 9:00am - Opening Statement - TB A
9:00-12:00pm: Becoming a Behavioral Detective: Understanding and Supporting Complex Behaviors : Presenters: Kim Barthel and the Relationship Matters Team
12:00 - 12:30pm: Lunch Break and Gift Draw
12:30 - 1:30pm: Family Resiliency and Reunification Presenter: Emily Henry
1:30 – 1:50pm: A Family's Personal Journey Facilitator: Lucy French
1:50- 2:15 Activity and Break
2:15 - 4:15: Building Trusting Relationships and Overcoming Barriers
Moderator - Lucie Honey-Ray
Panel Guests: Caregivers and Social Workers TBA
4:15 - 4:30: Feedback Forms, Final Gift Draw Closing Remarks and Song
Conference Presentations
Emily Henry, Ancestral Teachings Traditionalist
Emily is a traditionalist and follows her ancestral teachings and ceremonial practices. Emily is employed in the federal justice system, where she authored 10 culturally based intervention programs that are currently offered to every federally incarcerated male Indigenous offender across Canada. She has also authored several training manuals for staff and Elders. Emily has been the recipient of numerous awards at workplace, including the prestigious 'Art Solomon memorial Award' for outstanding Indigenous employee. In 2017, she was awarded the Distinguished Alumni Award from the University of Fraser Valley. Emily's original home territory is the Ochapowace First Nation in Saskatchewan.
The Story of Resiliency: The Journey of Reconciliation
Emily's presentation briefly examines an overview of the structure of communities of Indigenous peoples in Canada and how conflicting values have multi-generational impacts. Emily will explore how cultural and community disconnection due to Indigenous social history resulted in overrepresentation in the Foster Care System through the lens of an Indigenous perspective.
The primary focus of the presentation is how an unwavering resiliency helped Indigenous people arrive at a point in history where reconciliation is the path forward. Emily's message of hope will explore how Indigenous children being raised in healthy environments will ultimately shatter generational cycles that originated with harmful events in history, which result in a generation of adults that honour their ancestry; thereby positively impacting the next seven generations.
Source: http://dialogue-for-life.com/images/2019/IntergenerationalTrauma-DialogueForLife2019.pdf
Brian Dean Williams, Clinical Counsellor
Brian Dean Williams is a registered clinical counsellor and mindfulness teacher. Brian worked for many years with marginalized youth in the public system, and now has a private practice. In addition to offering therapy, Brian speaks internationally at conferences, workshops, and meditation retreats. www.briandeanwilliams.com
The Power of Connection: During this pandemic, many of us are experiencing isolation and loneliness, and yet, we also live in a time when people are very concerned, and taking such strong compassionate action, to protect people they have never met. In this interactive session, Brian will offer some insights, facilitated discussion, video content, and hopefully a few laughs - on the theme of Connection. We are realizing increasingly the importance of connection as an antidote not only to loneliness, but a remedy for anxiety, depression, and substance misuse. We will review some of the recent research on this theme. With so many circumstances pulling us away from each other, how can we rise together to meet the challenges of our time?
Kim Barthel, OTR and the Relationship Matters Team supporting MCFD/Vancouver Aboriginal Child & Family Services Society
Kim Barthel is an award-winning occupational therapist, multi-disciplinary speaker/teacher and best-selling author supporting people in many cultures all over the world. A pioneer in reinforcing the importance of relationship, Kim has a special interest in understanding complex behaviour, neurobiology, trauma-informed practice, sensory processing, movement, attachment theory and mental health. For more info on Kim and her company Relationship Matters, please visit www.kimbarthel.ca.
Becoming a Behavioral Detective: Understanding and Supporting Complex Behavior: There is always a reason for the behavior! This powerful 3-hour online training will provide an introduction into understanding why people do the things they do. The focus will be on complex and challenging behaviour, and what's going on behind it: emotional/relationship problems, developmental disabilities, attachment strategies, sensory processing and more. This online experience is designed to support a wide range of participants: foster parents, social workers, adoptive parents and anyone who is curious about people and eager to help them be their best selves.
Sarah Kothlow, AgedOut Project Coordinator
Sarah, a former youth from care, has been AgedOut's Fraser Valley Connector for 2 years. Her role is to promote the website through workshops and community engagement. In addition, Sarah has been our Project Coordinator for over a year. She will share how she got involved with AgedOut, and how this project can support youth aged 17 to 29 to thrive after their transition out of care. Sarah is open to answering questions after the presentation.
AgedOut.com is a one-stop warehouse of information and life skills that supports youth in BC who have, or are about to, transition out of government care. The website is one of the most up-to-date places for young people to find information and opportunities to learn life skills through fun quests. Knowledge is a great source of empowerment for youth and young people.
Lucy French, Facilitator
Lucy is a bio, foster, and adoptive parent! Her family includes two grown up kids and a range of littles. Lucy's areas of specialization include transitions, early childhood parenting strategies and parent coaching.
Lucy is a Family Support Worker with Adoptive Families Association of BC.
Lucie Honey-Ray Moderator: Building Trusting Relationships and Overcoming Barriers
Lucie became a life student of the effects of change on individuals, organizations, and communities. She holds an MA in Community Development, a BA in adult education, a Provincial Instructor's Diploma and a Business Administration Diploma. She currently manages two initiatives for youth transitioning out of government care in BC and Vancouver.
Lucie's eclectic and diverse life experiences make her a dynamic and inspiring facilitator and speaker. An advocate of lifelong learning, she continues to explore and incorporate new tools and innovative approaches to her practice.
This is an ADULT ONLY event.
QUICK FAQs
How can I contact the organizer with any questions?
Please email us at fostersupport@hollyburn.ca
Can I update my registration information?
Yes, you can update your registration information.
Is my registration fee or ticket transferrable?
 Tickets are transferrable to another person within the same ticket category (i.e. MCFD caregiver to another MCFD caregiver). Please contact fostersupport@hollyburn.ca
My ticket category is sold out! Can I register in a different category?
No, please complete a waitlist request (see below) if your ticket category is full. Tickets booked in the wrong category may be cancelled and you will be asked to send a waitlist request for your ticket type. 
Oh no - My ticket category is full! How do I join the waitlist? 
If your category is full and you wish to join the waitlist, please send the following information to fostersupport@hollyburn.ca with the subject "Waitlist – Stand Together". Due to the number of waitlist requests, incomplete requests cannot be processed. 1) Name 2) Address 3) Telephone number4) Email Address5) Ticket category