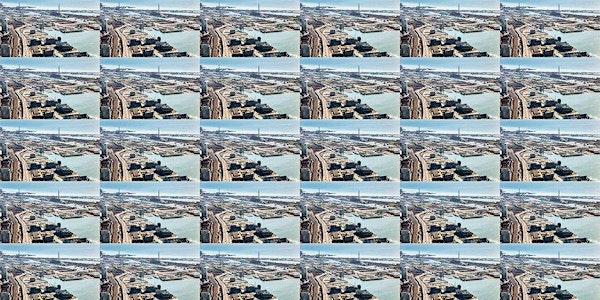 Stand up for our waterfront! End Google's corporate capture.
Location
St. Paul's on Bloor - Great Hall
227 Bloor Street East
Toronto, ON M4W 1C8
Canada
Waterfront Toronto's deal with Google's Sidewalk Labs has compromised the public agency. It's time for our elected representatives to act.
About this event
Waterfront Toronto is clearing the way to give Google/Sidewalk Labs exclusive access to land, infrastructure, data, public funds and decision-making.
In public consultations led by Waterfront Toronto, conversations about Sidewalk Labs' proposed test bed district have been on the company's terms. Residents have principally been asked to react to specific proposals, and how they should be implemented.
Fundamental questions have repeatedly fallen outside the margins of formal consultations. We're putting them back on the table.
What are the risks of handing city-building roles and public sector work over to a private, for profit tech company? Has meaningful consent for this proposal been sought and obtained from indigenous communities? Is Google the right partner for a just transition to a low carbon economy? Can visitors and residents opt out of data collection? What lessons can we learn from Google's transformation from a search engine to a media giant?
Confirmed speakers to date include:
Marva Burnett, National President, Acorn Canada
David Robertson, Good Jobs for All
Brandon Haynes, President, CUPE Local 4948
Saqib Bhatti, Action Centre on Race and the Economy
Daniel Bernhard, Friends of Canadian Broadcasting
Join us in calling on our democratically elected representatives to witness Torontonians' concerns, stand up for Torontonians, and challenge Waterfront Toronto's deal with Google.
Questions/info: blocksidewalk@protonmail.com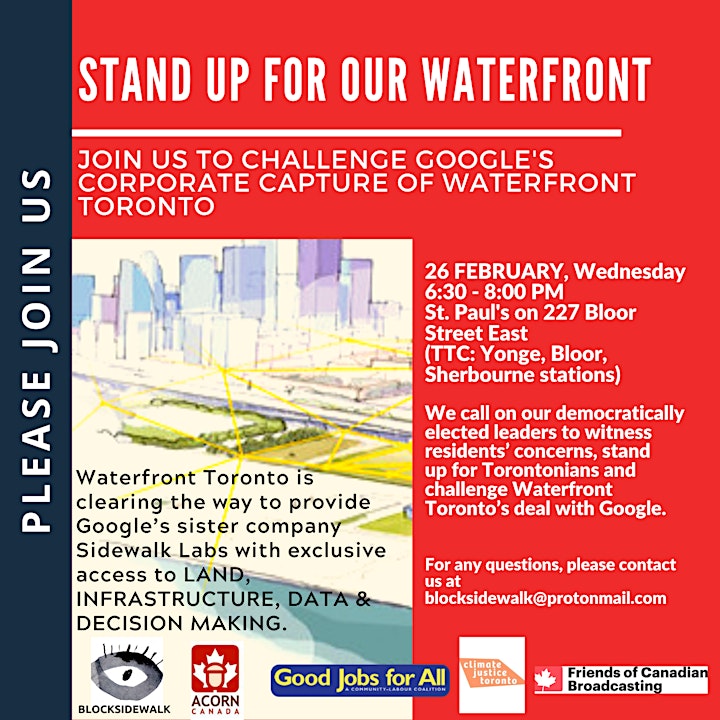 Accessibility: Wheelchair access is available through the Atrium located at the front of the Church off of Bloor Street. Accessibility parking is available in the small laneway on the east side of the church.