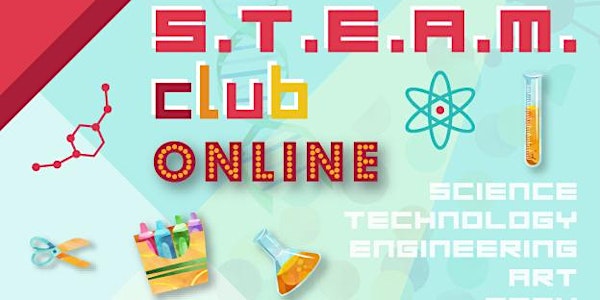 S.T.E.A.M. Club (April to June) 2021
Get your creativity going!
Date and time
Tue, Apr 13, 2021 3:30 PM - 4:00 PM PDT
About this event
The S.T.E.A.M. (Science, Technology, Engineering, Art, and Math) Club welcomes children ages 8 to 12 who love to experiment, create, and learn more about the world around them. Each week a different science or artistic theme is explored. The program aims to promote creativity, critical thinking, and perseverance while encouraging participants to continue reading science-related books after each session.
All sessions are free and take place every Tuesday from 6 to 7 p.m. Parents can now register their child for the April to June activities. The first participants to register will receive a free activity bag with all the materials needed for each of the activities.
Please note: Once all the activity bags have been reserved, families who wish to participate can still register their child/children. They will receive a list of materials to purchase for each of the activities.
For further information, contact Education Coordinator Azanie Roy at azanieroy@morrin.org.
---------------------------------------------------
Le club S.T.E.A.M. (sciences, technologie, génie, arts, et mathématiques) accueille les enfants de 8 à 12 ans qui aiment réaliser des expériences, puiser dans leur créativité et en apprendre davantage sur le monde qui les entoure. Ce programme vise à promouvoir la créativité, l'esprit critique et la persévérance tout en encourageant les enfants à consulter des livres scientifiques après chaque séance.
Toutes les séances sont gratuites et auront lieu chaque mardi de 18 h 00 à 19 h 00. Les parents peuvent dès maintenant inscrire leur enfant aux activités d'avril à juin. Les premières inscriptions recevront un sac d'activités incluant tout le matériel pour chaque semaine.
Veuillez noter qu'une fois tous les sacs d'activités réservés, les familles désirant participer auront encore la chance de s'inscrire. Une liste de matériel à acheter pour les activités sera alors envoyée.
Pour de plus amples informations, contactez notre coordonnatrice aux projets éducatifs, Azanie Roy à l'adresse azanieroy@morrin.org.
About the organizer
As an English-language cultural centre located in the historical quarter of Quebec City, the Morrin Centre strives to be a leading cultural institution of national standing, providing the Francophone and Anglophone public with rich, engaging programming in the areas of heritage interpretation, education, and the arts.  Building upon our building's history and key institutions, our programming aims to provide historical perspective on Quebec City's unique French-English heritage, develop enhanced educational opportunities for youth,  and act as a springboard for artistic creativity.
--
Le Morrin Centre est un centre culturel de langue anglaise qui fait la promotion du patrimoine de la communauté anglophone à Québec, encourage les échanges culturels et offre une grande variété d'activités, telles que des services de bibliothèque, des visites guidées, des rencontres avec des auteurs, des ateliers d'écriture et un festival d'écrivains. Son édifice de 200 ans, situé au coeur du Vieux-Québec, est géré par la Literary and Historical Society of Quebec et fait partie des lieux historiques nationaux du Canada.