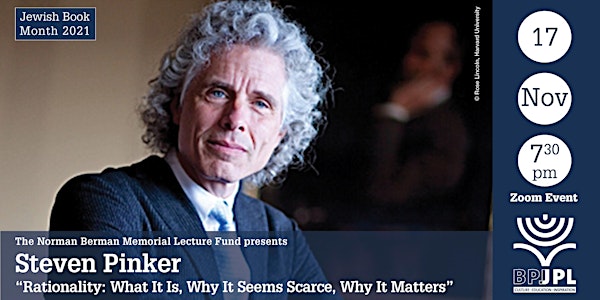 Steven Pinker: Rationality: What It Is, Why It Seems Scarce, Why It Matters
Jewish Book Month 2021: An Evening with Steven Pinker
Refund Policy
Contact the organizer to request a refund.
Eventbrite's fee is nonrefundable.
About this event
The Norman Berman Memorial Lecture Fund presents
Steven Pinker "Rationality: What It Is, Why It Seems Scarce, Why It Matters"
Can reading a book make you more rational? Can it help you understand why there is so much irrationality in the world? These are the goals of Rationality, Steven Pinker's follow-up to Enlightenment Now.
Brimming with insight and humour, Rationality will enlighten, inspire, and empower.
Steven Pinker is an experimental psychologist who conducts research in visual cognition, psycholinguistics, and social relations. Currently Johnstone Professor of Psychology at Harvard, he has also taught at Stanford and MIT. He has won numerous prizes for his research, his teaching. He is an elected member of the National Academy of Sciences, a two-time Pulitzer Prize finalist, a Humanist of the Year, a recipient of nine honorary doctorates, and one of Foreign Policy's "World's Top 100 Public Intellectuals" and Time's "100 Most Influential People in the World Today".
Copies of Rationality are available for purchase at Paragraphe Bookstore.