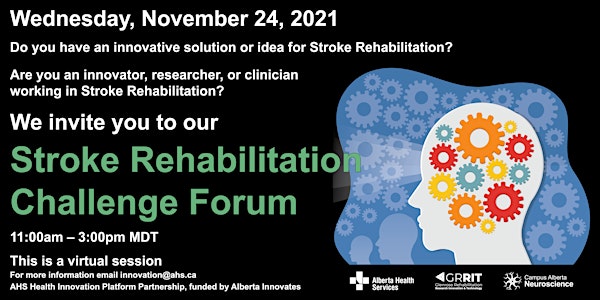 Stroke Rehabilitation Challenge Forum
Calling all innovators, researchers and clinicians in the stroke rehabilitation area!
About this event
If you have an innovative solution in the area of stroke rehabilitation, join us for the STROKE REHABILITATION CHALLENGE FORUM on November 24, 2021 from 11:00 AM - 3:00 PM MDT (Mountain Daylight Time).
Join Alberta Health Services (AHS) and its ecosystem partners to learn about the AHS Health Innovation Platform Partnership (HIPP): ORIENT-MAP-TEST DRIVE program to help Alberta-based health technology focused small and medium-size enterprises along their commercialization journey. The AHS HIPP program aims to support innovators, clinicians, and researchers to overcome hurdles associated with pre-commercial innovation in defining value through evidence and improving product-market fit.
Our first prototype of the AHS HIPP program's ORIENT offering will focus on stroke rehabilitation. We are launching it with The Stroke Rehabilitation Challenge Forum. At this forum, innovators will have an opportunity to understand current challenges in the provision of stroke rehabilitation services across Alberta. Key stakeholders from AHS and the Cardiovascular Health and Stroke Strategic Clinical Network (SCN) will be in attendance. Participants from this event will be invited to apply for consideration to be accepted into the first ORIENT cohort.
Tentative Schedule:
Social Lounge: 10:00am – 11:00am
Welcome and HIPP Overview: 11:00am – 12:00pm
Stroke Rehab Panel: 12:30pm – 2:30pm
Discussion Tables & Networking: 2:30pm – 3:00pm
For more information contact the AHS Innovation, Evidence, & Impact Team at innovation@ahs.ca and reference the "Stroke Rehabilitation Challenge Forum".
We will be using Airmeet for the event platform and login details will be sent via email.