Sales Have Ended
Registrations are closed
Call-in and Q&A information: You are invited to call Webinar on Lifesize. Join the meeting: https://call.lifesizecloud.com/2008663 Join the Lifesize meeting using Skype for Business: https://skype.lifesizecloud.com/2008663 Call in by Phone or Mobile (audio only) Canada: +1 (844) 572-5683 Meeting extension: 2008663# Additional numbers: https://call.lifesize.com/numbers Calling from a Lifesize conference room system? Just dial 2008663 with the keypad. Other ways to call: https://call.lifesize.com/otherways/2008663 Q&A information: https://app.sli.do/event/v3oqwlln OR www.sli.do Meeting # Z246
Sales Have Ended
Registrations are closed
Call-in and Q&A information: You are invited to call Webinar on Lifesize. Join the meeting: https://call.lifesizecloud.com/2008663 Join the Lifesize meeting using Skype for Business: https://skype.lifesizecloud.com/2008663 Call in by Phone or Mobile (audio only) Canada: +1 (844) 572-5683 Meeting extension: 2008663# Additional numbers: https://call.lifesize.com/numbers Calling from a Lifesize conference room system? Just dial 2008663 with the keypad. Other ways to call: https://call.lifesize.com/otherways/2008663 Q&A information: https://app.sli.do/event/v3oqwlln OR www.sli.do Meeting # Z246
An employment lawyer's perspective on how your business can manage through the COVID-19 pandemic.
About this event

Canadian businesses are facing unique challenges in managing through the COVID-19 pandemic. These challenges include issues related to:
health and safety
increased absenteeism
work refusals
accommodating human rights
implications of a vaccine
workplace restructuring
This session will provide employers with practical tips and tools to address these issues when they arise and to minimize related legal liability as they move forward into 2021. This webinar will be led by Priya Sarin, Partner at Sherrard Kuzz LLP, a leading Canadian employment & labour law firm.
Priya Sarin
Partner, Sherrard Kuzz LLP
Priya is an accomplished labour, employment and human rights lawyer with a background in civil litigation. She has extensive experience advising and representing a broad range of for-profit and non-profit management clients. While Priya places an emphasis on practical, risk-mitigating advice, she is no stranger to the courtroom and regularly advocates for clients in court and before Ontario's administrative tribunals.
Fluent in English, French and Spanish, Priya is widely published and regularly asked to speak on topics relevant to her practice. Priya is a member of the Law Society of Ontario, Canadian Bar Association, Ontario Bar Association (Labour & Employment, Constitutional, Civil Liberties and Human Rights) and the Advocates' Society.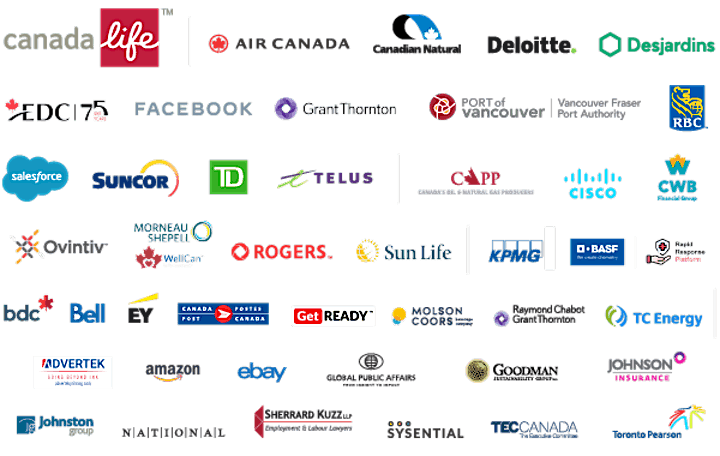 Organizer of Successfully Managing Your Workplace During a Global Pandemic
Since 1925, the Canadian Chamber of Commerce has connected businesses of all sizes, from all sectors and from all regions of the country to advocate for public policies that will foster a strong, competitive economic environment that benefits businesses, communities and families across Canada.
With a network of over 450 chambers of commerce and boards of trade, representing 200,000 businesses of all sizes in all sectors of the economy and in all regions, we are the largest business association in Canada, and the country's most influential. The primary and vital connection between business and the federal government, our views are sought after and respected by government, business leaders and the media thanks to our well-researched reports, analyses, position papers and policy resolutions that reflect a broad business perspective.