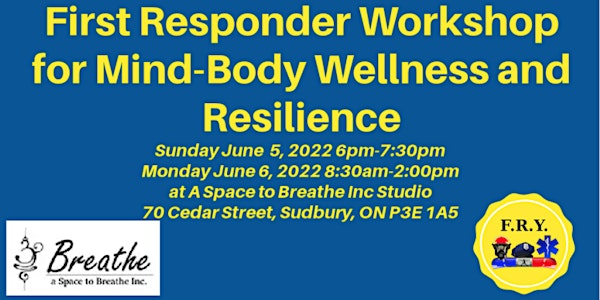 Sudbury First Responder Mind-Body Wellness & Resilience Workshop
Sudbury: 5-hour FRY The Method Workshop for First Responders
When and where
Location
A Space to Breathe 70 Cedar Street Greater Sudbury, ON P3E 1A5 Canada
Refund Policy
Contact the organizer to request a refund.
Eventbrite's fee is nonrefundable.
About this event
FRYCanada is a toolbox for First Responder Mind-Body Wellness and Resilience, tailored for First Responders by First Responders to meet their needs. FRY The Method is delivered through workshops, in-person classes (where available), FRY The APP, and through "F.R.Y. First Responders' Yoga. The BOOK" available on Amazon.
FRY Canada is coming to Sudbury at A Space to Breathe Inc. Studio with two opportunities to engage:
5hr FRY The Method First Responder Workshop for Mind-Body Wellness and Resilience on June 6th 8:30AM-2PM (1/2hr break). Cost: $175+HST+Eventbrite fee
FRY is also offering a 90-minute Pre-Workshop class in FRY The Method June 5th 6PM-7:30PM. Cost: $25+HST+Eventbrite fee.
IT IS HIGHLY RECOMMENDED THAT YOU AND YOUR TEAMS ATTEND BOTH TO EXPERIENCE THESE TECHNIQUES WHILE THEY ARE IN SUDBURY!
FRY The Method pairs scientific studies and reviews on First Responder mind-body injuries with studies on the impact of breathwork, functional movement, mindfulness, relaxation techniques and positive affirmations on these challenges.
More about the 5-hour FRY The Method Workshop:
An overview of FRY The Method, outlined in "F.R.Y. First Responders Yoga.The BOOK", available on Amazon and digitized in FRY The APP, available for iPhone and Android.
Of interest to First Responders (Dispatch, Paramedic, Police, Fire & Volunteer Services, and their management) and Yoga Teachers interested in future certification in FRY The Method and licensing to teach through the FRY The APP platform (paid) and/or In-Person FRY The Method Classes (paid). The 5-Hour Workshop does qualify for 5 Continuing Education Credits for Yoga Alliance for RYTs (Registered Yoga Teachers).
Workshop Learning objectives:
Learn how to manage mental health, injury-prevention, stress and build resilience in active, high trauma jobs;
Understand the science behind and impact of breathwork, functional movement (energetic yang and deep tissue stretching yin), relaxation techniques, positive affirmations and meditation on mind-body wellbeing; and
Experience the effect of a FRY The Method class on the nervous system, the physical body and overall wellbeing.
More about FRY The Method:
To develop FRY The Method, The Book, and The APP which is a digitization of the Book, FRY conducted dozens of interviews with First Responders and performed in-depth scientific literature reviews at various stages: when establishing FRY The Method, designing and developing FRY The APP, and during the APP testing phase.
Studies and interviews show that First Responders experience:
5 times greater physical injuries,
sleep disorders due to shift work,
anxiety and inability to relax or "let go", and
30 percent develop conditions such as depression and PTSD
It is important to note that these statistics are from BEFORE the past Pandemic Year.
Three key complains they heard from First Responders were:
No time for self-care;
Timing of public classes do not fit they erratic shift; and
There is no one source for relaxation, meditation, movement and mind-quieting techniques, nor specific to their need
Enter FRY The APP. A toolbox for mind-body wellness and resilience, that compiles breathwork, functional yoga movement (energetic and passive deep tissue stretching), meditation and positive affirmation techniques, designed for First responders by First Responders, tailored to their needs. And with the APP the tools are available anytime, anywhere, when needed, at a push of a button 24/7 with no geographical limitation.
More about your Instructors:
Julia Long (Dharma Gian Kaur): is an Advanced Sivananda Yoga Teacher, certified California College of Ayurveda (CCA) Yoga Nidra Teacher Trainer, and a Kundalini Yoga Teacher based in Ottawa, Canada. She has been teaching and providing CCA Yoga Nidra sessions in groups and privately for many years. She is currently the only Classically-based Yoga Nidra Teacher Trainer in Canada (CCA-YN). She is also a certified Canadian Fitness Professional (CanFitPro). She has over 1000 hours of yoga training, including trauma-informed movement.
Two of her three sons are First Responders which spawned the creation of F.R.Y. as a way of helping with the demands of their and their colleagues' duties.
Julia holds a Bachelor of Business Administration, a Bachelor of Laws and was a practicing lawyer. She has used her skills as a leader in the federal arena to help keep chemical substances of concern out of the Canadian environment. She is writing and publishing in various journals on topics of wellbeing such as Canadian Firefighter, Canadian Paramedicine, Blueline and Crakyl, the Firefighter Lifestyle and Health Magazine.
She is co-author of "F.R.Y. First Responders Yoga.The BOOK".
Julia is a Registered Yoga Alliance Instructor (RYT-500) and also a Yoga Alliance Continuing Education Provider (YACEP).
Julia has classed herself as a "mobile yoga provider" travelling to talk, teach and study, most recently at the International Festival of Yoga, out of Dallas Texas (2021).
Sasy Cacace: is a former Italian Police Detective and chief who has spent 20 years serving the Italian Government in the field of crime and narcotics. Knowing very well the stress and all the consequences that First Responder service can bring into the personal life of every single officer or member, Sasy was inspired to offer training for First Responders.
Drawing on his past in law enforcement and the knowledge he developed since 2005 in the fields of meditation, stress reduction, Yoga and trauma-informed movement, Sasy realized F.R.Y. is of value to paramedics, firefighters, police officers who put their lives at risk everyday on duty, and dispatchers who support them.
He is an Experienced Registered Yoga Alliance Instructor (E RYT-500) and a Yoga Alliance Continuing Education Provider (YACEP)
He is the author of "The Key to Happiness" and "Yin Yoga" and co-author of "F.R.Y. First Responders Yoga.The BOOK".
Sasy has lead sessions at International Festivals, most recently at:
the International Festival of Yoga, out of Dallas Texas (2020 and 2021) and
Bliss Beat Festival in Alexandria Italy (2020).