Join us for a special Opera by Request 'Ring Cycle' Fundraiser!
About this event
Enjoy a delicious "Feast of the Senses" Gourmet Beer Dinner, accompanied by Maestro William Shookhoff and four fabulous Opera by Request singers. Each of the dinner courses will be accompanied by a different Granite Brewery Fine Ale. And with each course you'll be entertained by performances of familiar songs and arias inspired by the various beer styles. Oliver Dawson, tenor and beer expert, will be your host for the evening, bringing to life the marriage of opera and craft beer.
All proceeds will go towards the Opera by Request 2020 production of Wagner's Ring Cycle. This will be only the 2nd time ever in Canada that it has been performed in its entirety.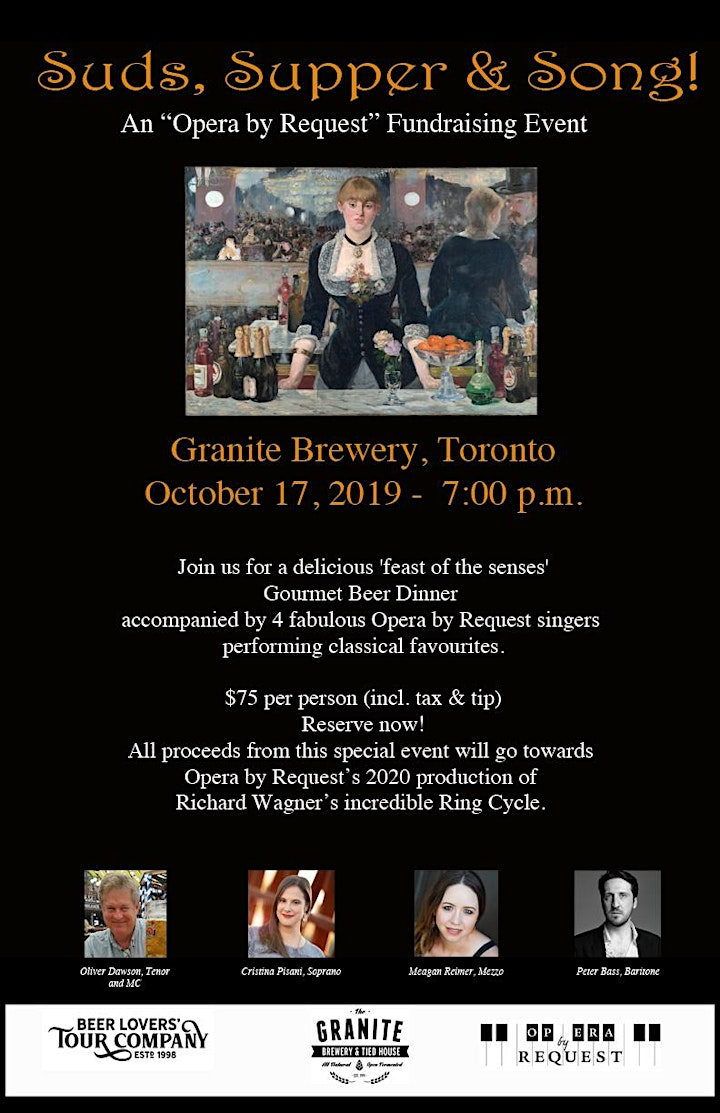 Organizer of Suds, Supper & Song
The Beer Lovers' Tour Company has been running craft beer-related Tours and Events for over 20 years in Toronto and overseas.  Their most popular tour, "The Old Toronto Beer Tour" combines history, culture and craft brewing into a unique day-long experience. 
International tours have included adventures to Oaxaca Mexico,  Oktoberfest and Bavaria,  Ireland & Britain, Belgium, the Czech Republic and even Iceland!