Look & Feel Great in Your Shorts this Summer after this 5-Day Whole Foods Detox for Beginners Designed to help you feel Vibrant & Energized.
About this event
Be in the first 20 to sign up pay only $47 - that's less than half of the retail price.
This detox is NOT about starvation, or strange unknown foods.
It is about eating delicious whole foods that make your body thrive so that you can enjoy radiant health and unbridled energy.
This 5 day-detox is designed to help you to reset your eating habits and get back on track with your health goals.
You will
Be guided through a whole-foods based cleanse.
Learn how to curb cravings
Gather tools to empower you to make healthy and conscious choices around your eating habits
Be provided with all the materials you need, to be successful including:
Tons of support and guidance from me, a certified health coach – I'm not going to let you slip between the cracks or hide out
A complete daily protocol with step-by-step instructions on what to do and when to do it
Recipes for breakfasts, lunches and dinners, including vegan options, along with snack and sweet treat recipes – you won't have to wonder whether a food is "okay" – I'll spell it all out for you
Access to my exclusive MEMBERS ONLY Facebook group where you'll be able to connect with me and other detoxers. If you've never joined a group like this before, believe me: it really helps and it makes for a fun week.
A live training call with me where I'll explain the detox step-by-step, and you'll have a chance to ask all your questions before we get started
A shopping list template, so you'll zip through the grocery store
Direct support from me via the online forum
And just for signing up, I want to thank you by giving you a bunch of bonus gifts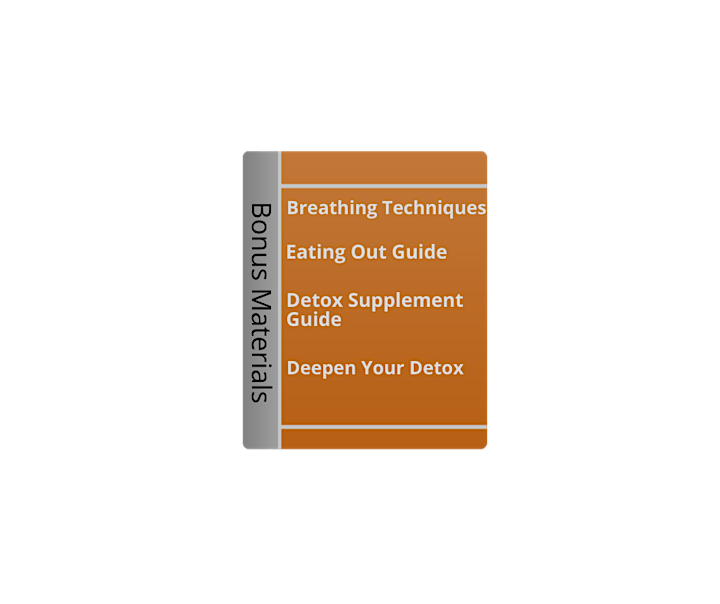 Hurry, to see if you can be in the first 20 to sign up, and pay just $47 and you still get all these bonuses:
Bonus #1: A complete "Deepen Your Detox" Bonus Tips Handbook to help you get the best results during your detox
Bonus #2: An eating out guide to help you stick to your detox if you have a business lunch or a meal out
Bonus #3: A detox supplement guide. Supplements are optional but this will help you decide which ones, if any you want to take during the detox.
Bonus #4: A breathing technique handout. Breathing exercises are great for helping to detox, strengthen the body, and promote relaxation.
Bonus #5: An post-detox strategy call LIVE with me to check-in, ask your questions and get more tips for keeping your best body in top shape after the detox is over