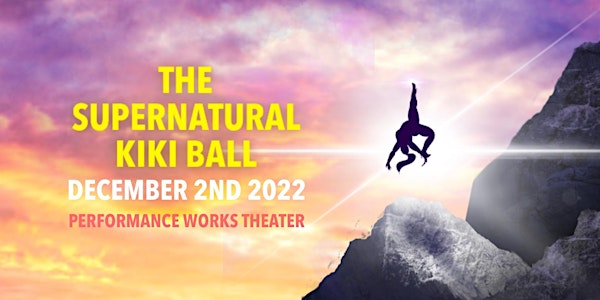 Supernatural Kiki Ball with Vancouver Indigenous Fashion Week x VVJ
Khelsilem 007 is organizing their first Mini Kiki Ball presented by VAN VOGUE JAM x Vancouver Indigenous Fashion Week at Performance Works.
By Van Vogue Jam Arts Society
When and where
Date and time
Starts on Fri, Dec 2, 2022 6:00 PM PST
Location
Performance Works 1218 Cartwright Street Vancouver, BC V6H 3R8 Canada
Refund Policy
Refunds up to 1 day before event
Eventbrite's fee is nonrefundable.
About this event
PRE-SALES ARE SOLD OUT.
THERE WILL BE TICKETS AT THE DOOR FOR $25
Subject to venue capacity
Supernatural Kiki Ball with Vancouver Indigenous Fashion Week x VVJ
Khelsilem 007 is organizing their first Mini Kiki Ball presented by VAN VOGUE JAM x Vancouver Indigenous Fashion Week at Performance Works Theatre.
Inspired by the supernatural beings of our past, present, and future, the SUPERNATURAL BALL celebrates all things above and beyond our natural world. Every culture celebrates figures, beings, and things who behaved or intervened outside the natural order of things. Join us as we pay homage to our supernatural origins.
The Ballroom scene in Vancouver teams up with Vancouver Indigenous Fashion Week in the unceded territory with the Supernatural Ball.
Khelsilem 007 invites you to strut up the Vancouver runway for an extravagant evening of runway divas, sickening vogue battles, bending realness, and seductive bodies in competition for grand cash prizes.
Through Van Vogue Jam, Ballroom culture in Vancouver has grown over the past eight years as a safe space for queer communities to celebrate and share their artistry of fashion, art, and performance on the runway.
Whether you're a Ballroom cheerleader, a runway walker, or a balcony voyeur, this is a fashion and dance extravaganza not to miss. All are welcome!
All ages event - *Guardians are needed with minors, and confirmed via email to info@vanvoguejam.com with name of minor and name of guardian. Failure to do so will result in not be able to enter into the event.
DOORS AT 6PM
LSS AT 7PM
TICKETS
$8 - Competitors / each category (you must walk your category to purchase this ticket, one per category. This is also includes "spectator" entrance fee)
$12 At The Door Competitor Ticket (subject to venue capacity)
$22 Pre-Sale Spectator Ticket (limited, pre-sale)
$25 At the Door Spectator Ticket (subject to venue capacity)
*WE WILL NEVER SAY NO TO FOLKS WHO CANNOT AFFORD TO PAY*
Please contact us for sliding scale tickets/ticket support at info@vanvoguejam.com
Host: Khelsilem 007 and Jaye Simpson
Commentator: Tigger 007
Judges: To be announced
DJ: Father Gvasalia
CATEGORIES
RUNWAY
You wear your heritage, evoke a sense of nostalgia, and show pride for your rich culture. We want the see All American and European Runway in your cultural fashion. **Cultural misappropriation is an automatic chop.**
Beginner Runway - $20
American - $20
European - $20
Grand Prize - $50
BIZARRE $50
It crawls, flies, slithers, and cries at the moon. From lore or from canon, this bizarre calls for you to be more than a creature, but a supernatural being from out of this world.
BODY - Multiple Cash Prizes
We want pantheon. We want gods, goddesses, and deities. We want to see you EMBODY the heavenly, the sacred, the supernatural. Bring your best celestial looks for body.
FF - $25
MF - $25
GNC - $25
Grand Prize - $50
FACE - Multiple Cash Prizes
Water. Earth. Fire. Air.
Long ago, the four nations lived together in harmony – then the sickening the face stealer attacked. Show one of the four Nations in your look, and serve the best face.
We want to see eyes, teeth, skin, nose and the structure.
BQ - $20
FM - $20
Grand Prize - $50
REALNESS - Multiple Cash Prizes (Updated Nov 18)
Priests, priestesses, oracles, or prophets. Read the tea…leaves, interpret the omens, or tell us our destiny. It's realness with ceremonial attire. Bring the best as a spiritual figure.
TM $20
FQ $20
GNC- $20
Grand Prize - $50
SEX SIREN OTA - Cash Prize $50
Are you more of the phallic Ace with a sprouting wand, a menage a trois of Cups, a sensually screaming Empress that's all about the pleasure principle? This is sex siren, but bring it with a Tarot inspired look.
PERFORMANCE - Multiple Cash Prizes
Its performance serving superpowered looks. You are almighty and divine, you are paranormal and exceptional, and possess supernatural talents capable of performing feats far beyond any human. It'll be "wow" battles.
We'll have winners in Beginner Performance, Soft & Cunt, then Dramatics. Each of these winners will then battle for grand prize.
Beginner OTA - $20
BQ/FQ Soft & Cunt - $20
BQ/FQ Dramatics - $20
Grand Prize - $100
ACCESSIBILITY:
There is (x1) designated accessible parking stall located directly in front of the venue.
The main lobby doors or the stage door on the west side of the building are at grade.
The dressing rooms, upstairs green room, and backstage washrooms are not wheelchair accessible.
All main areas of the auditorium are wheelchair accessible
(x2) universal washrooms w/ wheelchair accessible stalls and baby changing table
COVID-19 PROTOCOLS IN PLACE
There is some risk in attending large gatherings- the risk of Covid is never zero! By attending this event you understand the risk and that you are in good health / showing NO COVID-19 symptoms. Please stay home if you are not feeling well, there will be more events in the future
LAND ACKNOWLEDGEMENT
Van Vogue Jam Arts Society would like to recognize we are coming together on the unceded territories of xʷməθkʷəy̓əm (Musqueam), Sḵwx̱wú7mesh (Squamish), and səlilwətaɬ (Tsleil-waututh) Nations. We support the rights of Indigenous Peoples as stewards, protectors, and title holders of their lands and waters. We call on all people to change the policies, laws, and institutions in our country so all Indigenous Peoples can have full enjoyment of the rights of Indigenous Peoples.
CULTURAL ACKNOWLEDGEMENT
We also make a cultural acknowledgment to the Black, Lantix, Trans and Queer folks who have the founded Ballroom Culture - which we have a privilege of being guests to today. As an organization that is founded by non Black and Latinx people we acknowledge our ongoing need to question and reflect on how we navigate practicing Ballroom Culture locally, and continue our need to learn from the greater Ballroom community at large.
Creative safe space has always been at the heart of ballroom culture and we hope that this event can be a safe space for everyone to enjoy.
Oppressive attitudes and behaviors including but not limited to racism, transphobia, misogyny, fatphobia, ableism, and general bigotry are NOT welcome here. Consent is sexy - AND MANDATORY.
About the organizer
VAN VOGUE JAM is a vancouver-based community organization that offers weekly pay-what-you-can/by-donation vogue classes. VVJ was founded by Ralph Escamillan who is a queer Canadian-Fillipinx movement and performance artist and part of the International House of Amazon lead by the Legendary Leiomy Maldonado. Through the facilitation of his weekly classes, Ralph strives to share his knowledge and experience of vogue and the culture behind it, creating a new safe accessible spaces for LGBTQIA2+ POC in Vancouver.
In addition to offering weekly classes,  VVJ has recently started to organize bi-annual Balls with one recurring at the launch of Vancouver Pride Week, and another occurring at different time earlier in the year.
These balls draw on both international talent to judge and participate in the scene including Leiomy Maldonado (Mother of the House of Amazon/NYC), Brandon Harrison (Father of the Kiki House of Flora/PDX), Daniel Giron (House of Mizrahi, Father of the Kiki House of Ada/PDX), Carlos Lanvin (LAX), Packrat Lanvin (LAX), Twysted Miyaki-Mugler (YYZ); and local talent and notable community figures like Jalene Tyme, Raye Sunshine, Kendall Gender, Rose Butch (The Darlings), and Shay Dior (Mother of the House of Rice),
Notable sponsors of Van Vogue Jam have included Lululemon Lab, Absolut Vodka, CurliQue, ArtStarts in Schools, Little Sisters, and Karma Teachers.