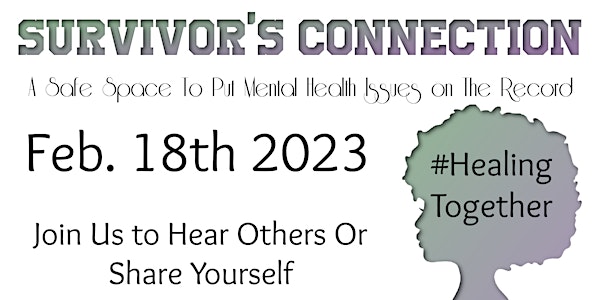 Survivors Connection
Join Survivors from around the world as we discuss mental health, our experience with providers, and share tips and tricks to help you heal.
About this event
Every single person on this planet has a story that needs to be told. Oprah said that. She also said that every single one of those stories should be recorded for future generations. Survivors Connection is hosted by a group of people from around the world who understand mental health issues the way that only patients can.
Join us on Februrary 18th as we discuss our experience with seeking help for our mental health issues and put our stories on the record for providers and other patients everywhere.
This year we are promoting Surrey Women's Center, in Surrey, British Columbia Canada. You can help provide support for women who need it by donating directly to the Surrey Women's Center through their Website, or supporting one of two Loud Mouth Brown Girl Collections.
Dolphin Collection and Adult Collection
Join people from all over the world as we discuss how mental health is handled, and what patients need. You can share your story or listen to others. Either way the conversation is going to be phenominal.
For more information visit Devon J Hall at Loud Mouth Brown Girl dot com
Last year was the first ever Survivors Connection event, setting off conversations around the world about mental health and how we deal with our trauma providers.
This year we will be joined by Devon J Hall with their friends Morgaine Oger, Savannah Worley, Nada Chehade, Barrie G. Hall, Doctor Ashley, and several others to discuss how far we've come since last year and where we're going in the future.
Tickets will give you the chance to join us and to share your own stories during our once a year livestream so grab your tickets today and get your story on the record.