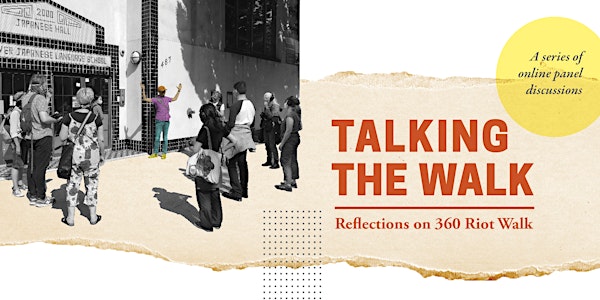 Talking the Walk: An Embodied Experience of History
An Embodied Experience of History is the first panel discussion of the series Talking the Walk: Reflection on 360 Riot Walk
Refund Policy
Contact the organizer to request a refund.
Eventbrite's fee is nonrefundable.
About this event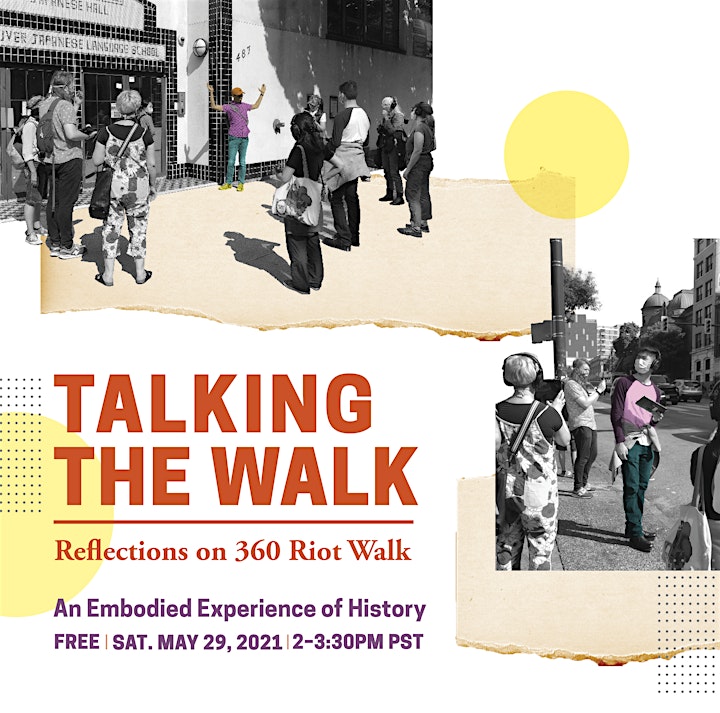 Talking the Walk: Reflections on 360 Riot Walk is a series of online panel discussions that use 360 Riot Walk as an entry point to explore the history of anti-Asian violence and white supremacy in Vancouver.
In the first of three panels, former participants from the guided walking tours share insight into their embodied experience of using Virtual Reality technology to invoke site-specific histories. With Sue Shon, Kathryn A. Bannai, Debbie Cheung, facilitated by Adiba Muzaffar.
360 Riot Walk is an interactive walking tour of the 1907 Anti-Asian Riots in Vancouver that traces the history and route of the mob that attacked the Chinese Canadian and Japanese Canadian communities following the demonstration and parade organized by the Asiatic Exclusion League in Vancouver. Participants are brought into the social and political environment of the time where racialized communities were targeted through legislated as well as physical acts of exclusion and violence. The soundtrack is available in four languages of the local residents of the period: English, Cantonese, Japanese and Punjabi.

Panelists
Sue Shon, Ph.D. is a literary scholar and Assistant Professor of Critical and Cultural Studies at Emily Carr University of Art and Design. Her investments in multiracial anti-colonial struggles and solidarities inform and are informed by her research and teaching in critical race and ethnic studies, diasporic aesthetic cultures, and BIPOC cultural production. Sue has published in academic journals and organized Xenology, a drawing project and exhibition that responds to the work of science fiction writer Octavia E. Butler. She is currently working on a book project titled "Racial Sense and the Making of Aesthetic Modernity."
Kathryn Bannai is a member of the Board of Directors of the Little Tokyo Community Council, and resides in Los Angeles. She served as a trustee of the Japanese American National Museum; president of the Seattle Chapter and, later, New York Chapter of the JACL; trustee of Eastern Washington University; and chair of the Seattle Public Safety Civil Service Commission. She was involved in the Japanese American redress movement, and was a lead attorney (1982 to early 1985) in Hirabayashi v. United States, Gordon Hirabayashi's coram nobis case. She also practiced law in British Columbia, and served on the B.C. Human Rights Tribunal.
Debbie Cheung is a creative practitioner with an interest in writing and promoting arts and cultural events. Her background in communication design, marketing, and public relations has led her to work with various artists and organizations, including previous stints at Dr. Sun Yat-Sen Classical Chinese Garden and the Satellite Gallery. She is the associate editor and a contributing writer of the upcoming art book Occupying Chinatown.
Moderator
Adiba Muzaffar is a filmmaker from New Delhi, India. In recent years, her practice has evolved into media art and installation work, inspecting film as a body and skin as an interface. Through video narratives led by personal accounts and experiments with materials, moving images and sound she perseveres to yank at invisible stigmas. Currently she works as a Content Strategist for the VR art staging platform Museum of Other Realities.

360 Riot Walk is an artwork by local artist Henry Tsang whose projects explore the spatial politics of history, language, community, food and cultural translation in relationship to place. His artworks employ video, photography, language, interactive media, food and convivial events in the form of gallery exhibitions, public art, pop-up street food offerings, curated dinners and more. Henry teaches at Emily Carr University of Art & Design.
This series is hosted by the Powell Street Festival in partnership with the Dr. Sun Yat-Sen Classical Chinese Garden. Financial support for the creation of 360 Riot Walk was provided by Creative BC and the BC Arts Council, Neighbourhood Matching Fund of the Vancouver Board of Parks and Recreation, and a SSHRC Explore Grant through Emily Carr University.