Description
Join us in the premier of Unveil Studio's "Dream"
Followed by thought provoking audience discussion and Q&A with our special guests:
Director/Producer Matthew Kooman and Elijah Kooman from Unveil Studios
And Kina from Total Woman Development who is a survivor of sex-trafficking
Special muscial presentation and worship led by local artist singer/songwriter Laurelle Agustyn.
Tickets are $20, register asap as space is limited.
Looking forward to seeing you all there!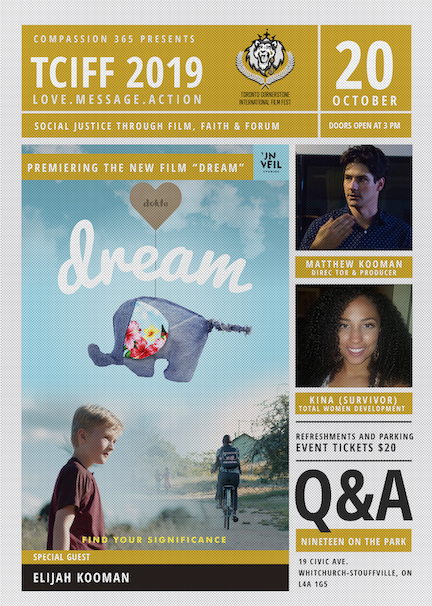 Official Trailer https://vimeo.com/321618736


More about the film "DREAM"
Dream is about the power of dreams and how a purposeful dream can change the world. It also explores what happens when people lose their way so that their dream becomes a nightmare. The documentary follows nine inspiring stories of children, women and men from around the world.
Subjects of the film include social justice issues:
Bryan and Katie Torwalt – Recording Artists and Worship Leaders, Jesus Culture

Robb Nash – a musician who overcame tragedy and has helped save more than 800 teens from suicide

Paul Yin – Grief Counsellor to the families of the missing MH370 aircraft

Phil Comparelli

– Former Lead Guitarist, 54/40
Monybany Dau – Former child soldier from Sudan

Brittni De La Mora – Former Top 12 Adult Film Star, now an evangelist

Milka – a young woman from Tanzania who dreams of becoming a doctor

Elijah – a 10-year-old Canadian who's sewing hobby is helping to fund Milka's dream
Filmed in locations as diverse as a small village in Tanzania to the dangerous streets of the red light district in Mexico City, and throughout Canada and the United States, Dream asks the question: if anything were possible, what dream would you build your life on?
From directors Matthew and Daniel Kooman, the award-winning filmmakers behind the feature film She Has A Name, audience members will be challenged and inspired by the screening. They will also have the opportunity to support the dream of Milka, one of the film's subjects, to become a doctor, through the purchase of a handmade Dream Elephant.