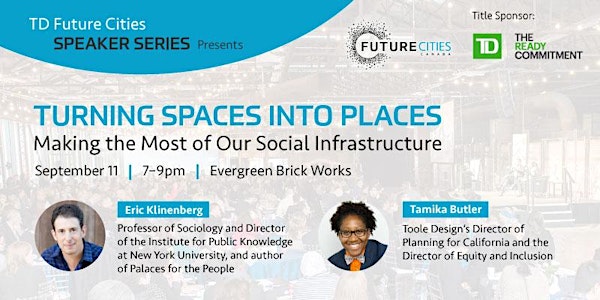 TD Future Cities Speaker Series: Eric Klinenberg and Tamika Butler
When and where
Location
TD Future Cities Centre Evergreen Brick Works 550 Bayview Avenue Toronto, Ontario M4W 3X8 Canada
Description
Turning Spaces into Places: Making the most of our social infrastructure
Speaker: Eric Klinenberg – Author, Palaces for the People

Speaker: Tamika Butler – Director of Planning, California
---
About the event
Shared public infrastructure – such as parks, libraries, and schools – are places that promote democracy and equity by providing space and opportunity for all residents. As urban populations continue to grow, so too will the importance of, and the stressors on, these public assets. This session will explore the role public assets play in building opportunity within cities and the mechanisms available to build, enhance, and protect these spaces.
Join us for a drink beforehand! Doors open at 6:30pm.
---
About the speakers
Eric Klinenberg is Professor of Sociology and Director of the Institute for Public Knowledge at New York University. He is the author of Palaces for the People: How Social Infrastructure Can Help Fight Inequality, Polarization, and the Decline of Civic Life (Crown, 2018), Going Solo: The Extraordinary Rise and Surprising Appeal of Living Alone (The Penguin Press, 2012), Fighting for Air: The Battle to Control America's Media (Metropolitan Books, 2007), and Heat Wave: A Social Autopsy of Disaster in Chicago (University of Chicago Press, 2002), as well as the editor of Cultural Production in a Digital Age and of the journal Public Culture. His scholarly work has been published in journals including the American Sociological Review, Theory and Society, and Ethnography, and he has contributed to The New Yorker, The New York Times Magazine, Rolling Stone, Time Magazine, Fortune, The Wall Street Journal, The Nation, The Washington Post, Slate, Le Monde Diplomatique, The London Review of Books, and the radio program, This American Life.
Tamika L. Butler, Esq. is Toole Design's Director of Planning for California and the Director of Equity and Inclusion. In addition to her responsibilities on planning projects, Tamika leads Toole Design's external efforts to integrate equity into all project work and internal efforts for Toole to become a more diverse, inclusive workplace that employs people of all backgrounds. This includes collaborating with Human Resources on recruiting and hiring practices, leading trainings for staff, and serving as a resource for colleagues across the country. serves as the Executive Director of the Los Angeles Neighborhood Land Trust, a non-profit organization that addresses social and racial equity, and wellness, by building parks and gardens in park-poor communities across greater Los Angeles.
---
About the TD Future Cities Speaker Series
Bringing together innovators and city builders from across sectors, the TD Future Cities Speaker Series invites us all to reimagine urban futures that are equitable, regenerative and prosperous for all.
These engaging talks from the leading minds in urban systems, from technology to mobility, will energize attendees and inspire all to think about the future of inclusive city building.
Visit https://futurecitiescanada.ca/events/tdspeakerseries/ to watch past TD Future Cities Speaker Series.