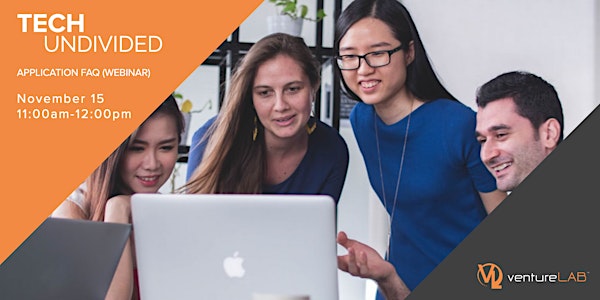 Tech Undivided - Application FAQ (Webinar)
Description
Please note that this event is an online webinar session. Once registered, you will receive instructions to join the webinar via email roughly one week in advance.


---
We're pleased to announce our new Tech Undivided Program! Tech Undivided is a 6-month program with a vision of creating an inclusive tech ecosystem that is not biased or divided by gender. It will focus on supporting diverse and underrepresented women-led tech companies that are developing solutions in hardware & enterprise software, health, advanced manufacturing, and fintech sectors.

Join our Tech Undivided webinar for an overview of the program, during which we will address any questions you may have pertaining to the program and application process.
The first call for applications is now open, and will be closing on Sunday, December 1st, at 11:59pm.
Please note that this event is an Online Webinar session. Once registered, you will receive instructions to join the webinar via email. If you have any questions, please contact marketing@venturelab.ca.

About ventureLAB
ventureLAB is a leading technology hub that supports tech entrepreneurs and small businesses. Located in York Region, Canada's densest technology cluster, ventureLAB has supported over 2,000 entrepreneurs in a region that is home to over 4,300 technology companies and 65,000 tech jobs. ventureLAB operates a 50,00 square-foot innovation hub that is home to over 45 tech companies and innovation partners. At ventureLAB, we support tech entrepreneurs through programs focused on capital, talent, and technology to grow and scale their businesses locally, nationally, and globally.
Photo/Video Disclaimer
All ventureLAB events are recorded for educational and marketing purposes. If you do not wish to be included in these recordings please let a ventureLAB team member know as soon as possible so that we can omit you from the recording.