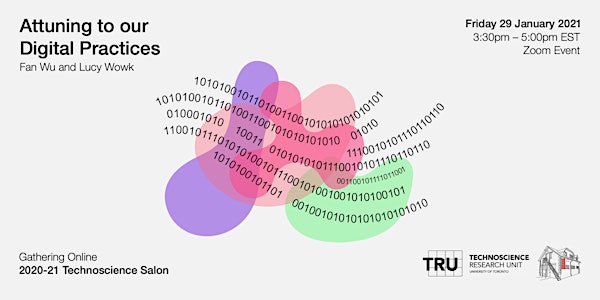 Technoscience Salon :: Attuning to our Digital Practices
Opening Event for 2020-21 Technoscience Salon :: Gathering Online
About this event
Attuning to our Digital Practices
Collective work towards the future begins in spaces of translation: how do we make sense of one another's silences, intonations, and vernaculars when we gather online across difference? How can we understand the patterns and rhythms of language, while still listening for the fundamental differences of another's voice? Please join us for this workshop that takes translation as its starting point to assemble diverse knowledge about gathering in the virtual while working through our multivalent responsibilities and response-abilities.
We have invited Fan Wu and Lucy Wowk to guide us through a workshop to delve into the topic of this year's Technoscience Salon series: Gathering Online. They will be guiding us through exercises that work towards new forms of collectivity, generating shared language in the form of experimental writing around our intuitions on the theme of "gathering online". We can consider how our political responsibilities and commitments shape our engagement with digital technologies, starting from a place of attunement to ourselves and to one another across language and space. We are pleased to extend this invitation to our community at large to collectively think about the virtual and its discontents.
Spots are limited and available on a first-come basis. If you are interested in joining the workshop, please register through Eventbrite by Thursday 28 January 2021 at 5 pm and we will send further details including the event link on Friday morning.
Fan Wu is a performer, writer, protean acolyte of Dionysus, and community organizer. His main practice concerns the gathering of collectives, and the curation of spaces that potentiate intimacy and spontaneity between strangers; he is a co-founder of The Toronto Experimental Translation Collective, and has hosted critical reading/creative writing workshops at Art Metropole, Trinity Square Video, and Mercer Union. You can read his work online at MICE Magazine, Aisle 4, and Shrapnel Magazine.
Lucy Wowk is interested in moments of encounter between ethics and aesthetics. Lucy is currently completing an M.A. in Communication in Culture at Ryerson University and York University, conducting experimental translations as a mode of inquiry. Their research interests include theories of affect, translation, and auto-fictional expressions of philosophical concepts.