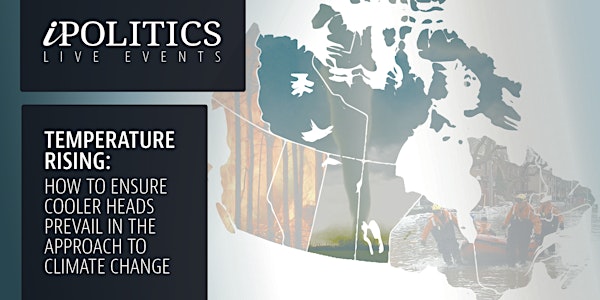 Temperature Rising: How to ensure cooler heads prevail in the approach to Climate Change
When and where
Location
iPolitics 17 York Street #201 Ottawa, ON K1N 5S7 Canada
Description
Canada is warming twice as fast as the global average. Climate change is causing extreme weather and natural catastrophes from coast-to-coast-to-coast.
Rising temperatures significantly worsen the risks of drought, floods, extreme heat and poverty. The outcomes are putting pressure on the Arctic, threatening our food supply and costing homeowners, businesses and governments billions of dollars a year due to flooding, fires and infrastructure damage. The human toll can't be measured.
Real progress on climate change will require a coordinated Canada-wide strategy. The timeline is short and the stakes are high.
What do Canadians expect?
How can businesses adapt, transition and grow?
What is the role of the financial sector in catalyzing the transition to a resilient, low carbon economy?
iPoliticsLIVE will pull back the curtain on climate change with a non-partisan conversation to reveal the reporting, risk and return of climate change policies through a blue-ribbon panel discussion and audience Q & A.
Listen. Learn. Ask. Engage.