Description
Live Stream is here: https://www.youtube.com/watch?v=jZOvLdXz78c
The TenX Ventures Business Blockchain Event is a curated event focused on the real business of blockchain. Catering to influencers, investors, business owners and entrepreneurs working in blockchain and related technology fields.
Featured speakers are senior officers from successful blockchain focused businesses who will share with you insights about what it took to build their business. Guests will have the opportunity to ask questions after each presentation.
This event will showcase how blockchain technology is already disrupting the world and will empower business owners, entrepreneurs and future tech leaders to take the next step in this growing, global economy.
Guests will include influencers in the blockchain community, investors, established blockchain companies and entrepreneurs who have vetted, investable, bankable ideas.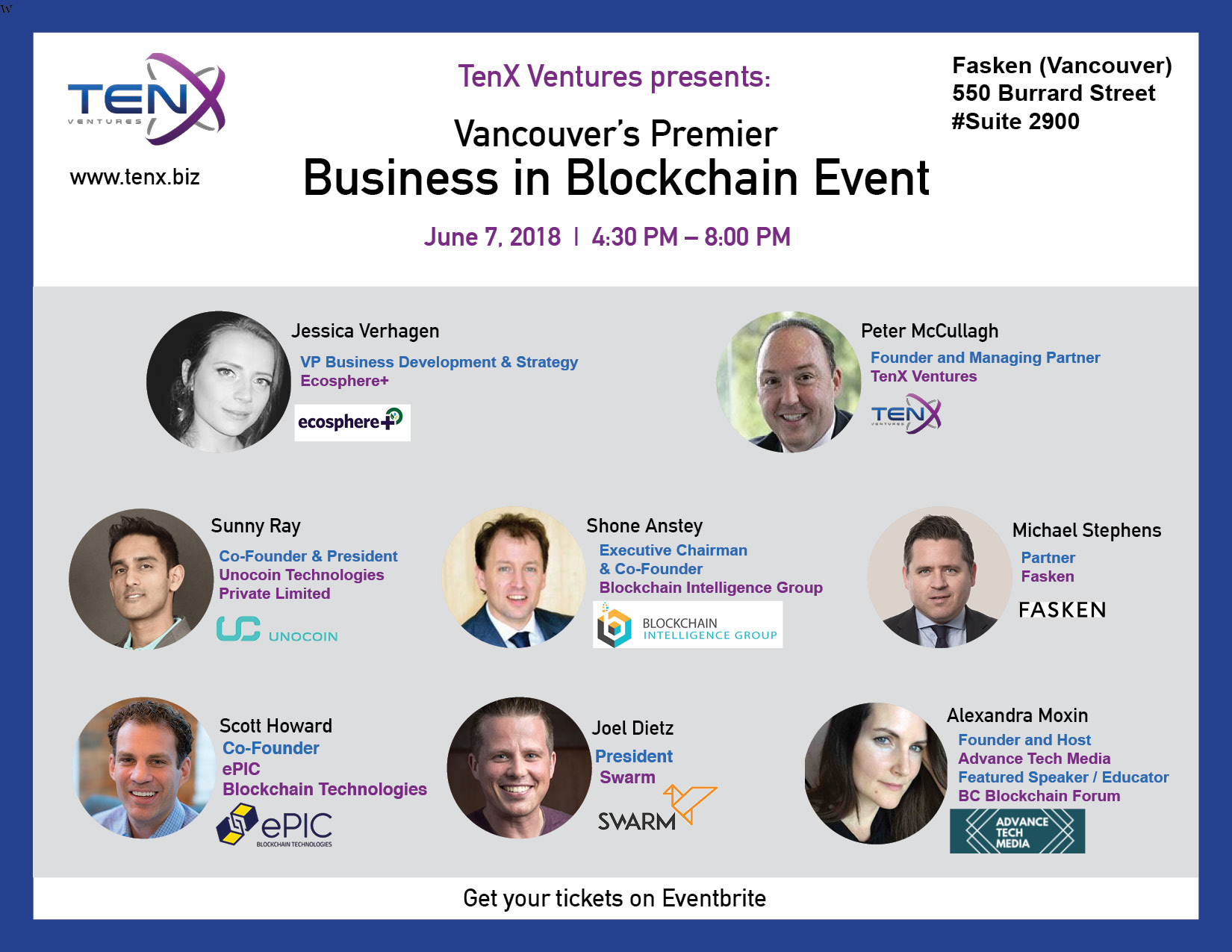 Featured Speakers
Jessica Verhagen, VP Business Development & Strategy at Ecosphere+
Joel Dietz, Founder and President at Swarm
Sunny Ray, Co-Founder & President at Unocoin Technologies Private Limited
Shone Anstey, Executive Chairman & Co-Founder at Blockchain Intelligence Group
Scott Howard, Co-Founder at ePIC Blockchain Technologies
Michael Stephens, Partner at Fasken
Peter McCullagh, Founder and Managing Partner at TenX Ventures
Alexandra Moxin, Founder and Host at Advance Tech Media, Speaker / Educator at BC Blockchain Forum
Schedule


4:30 PM Registration
4:30 - 5:00 Networking
To accommodate International schedules our Speakers will begin right at 5:00 pm. Host Introductions will begin after the break.
5:00 - 6:20 Event Welcome / Guest Speakers


Joel Dietz, Founder and President at Swarm
Joel Dietz is the Founder and President of Swarm, which has produced several products, including Swarm Syndicates and Swarm Fund, the blockchain for private equity. It's a fully decentralized capital market place that democratizes investing by using the power of the blockchain to open up high-return, alternative investment classes to smaller investors through asset-backed funds using cryptocurrency tokens. It makes traditionally exclusive investment opportunities, such as private equity and hedge funds, inclusive for the Swarm by pooling together smaller investments into larger, institutional-sized blocks.
Shortly after speaking in Miami at TNABC 2018 about the Swarm Fund, he flew to Berkeley to do a talk at Blockchain Berlin and recently spoke at the Polish Bitcoin Conference. In between speaking engagements he is working on new ways to bring cryptocurrency to the mainstream public. Joel co-founded the first smart contract educational channel (EtherCasts), the Ethereum Silicon Valley meetup, wrote the original "AppCoin Manifesto," and built the first decentralized asset and governance platforms on the Bitcoin blockchain. Joel facilitated the "LoveNest" blockchain-community living space in Palo Alto, holds awards from Google and Salesforce.com, and has presented on topics including Decentralized Autonomous Society, DAO Democracy, Futarchy, and Liquid Democracy. He holds degrees from Brown University and the University of Pennsylvania and speaks 7 languages.
Jessica Verhagen, VP Business Development & Strategy at Ecosphere+

Ecosphere+ brings to market the largest portfolio of forest conservation projects in the world, generating verified carbon credits and measurable sustainable development impacts. These carbon credits are part of a growing natural asset class at least as important as renewables in the fight to slow climate change by reducing carbon dioxide emissions, and vital to achieving the Paris Agreement goals. Ecosphere+ is part of Mirova, the responsible investing arm of Natixis, the second largest asset management firm in France.

At Ecosphere+, Jessica is responsible for driving demand in emerging carbon markets, including aviation and the use of new technologies to unlock new markets. She has been at the intersection of environment and finance for over twelve years, working in the British Columbia government designing North America's first carbon tax and the Western Climate Initiative's cap and trade system. She then worked with the founding team to launch Evok Innovations, a private sector $100 million fund that invests in early stage clean technologies to reduce greenhouse gases, followed by rolling up her sleeves in one of the world's top 100 cleantech companies to raise capital and develop the go to market strategy.
Sunny Ray,

Co-Founder & President at

Unocoin Technologies Private Limited
Sunny operates beyond the level of pure technology & always considers relevant social, economic, environmental, political and cultural issues in the local, regional, national & global level. He is the Co-founder and President of Unocoin, India's leading bitcoin company. Unocoin is a platform that makes it easy to securely buy, sell, store, send, receive, use and accept bitcoin. Bitcoin is the world's first open source, decentralized, digital currency and payment network.
Unocoin makes it easy to securely buy, sell, store, use and accept bitcoin. Investors include Digital Currency Group (Barry Silbert), Boost.vc (Adam and Tim Draper), FundersClub, Bank to the Future (Max Keiser), Blume Ventures, Bitcoin Capital, Wood Investment Partners, Mumbai Angels, Ah! Ventures, Andrew 'Flip' Filipowski, 2020 Ventures and Huiyin Venture. Sunny also leads several blockchain community initiatives in India and Canada. He's passionate about making a lasting impact on the world by leveraging his technical and business knowledge and expertise.
Shone Anstey, Executive Chairman & Co-Founder - Blockchain Intelligence Group
Shone is the Executive Chairman and co-founder of Blockchain Intelligence Group (CSE: BIGG) and was responsible for having originated the company's core products QLUE and BitRank. Mr. Anstey brings 20 years of experience in building complex technologies and software primarily within search, analytics and data center operations. He has been engaged with cryptocurrency since 2012 and is a Certified Bitcoin Professional. Formerly he acted as Director of Technology for an industrial Bitcoin mining operation.
Scott Howard, Co-Founder at ePIC Blockchain Technologies
Scott Howard is an enterprise and startup technology deal maker. Scott partners with world-class engineers to solve complex business and technology challenges generating customer success. As co-founder, of ePIC Blockchain, ePIC is committed to building secure, decentralized, and scalable processing power for the blockchain market. Scott believes Blockchain is a new category of technology, Trustware, the merger of hardware of software into a system of trust.
6:20 - 6:40 Break
6:40 - 6:55 PM Host Introductions
Michael Stephens, Fasken
Peter McCullagh, TenX Ventures
Alexandra Moxin, Advance Tech Media / BC Blockchain Forum
6:55 - 7:25 Vancouver Blockchain Companies and Community Speakers


Hyperbridge
Hyperbridge was founded to empower creators by building a better economy. This will be accomplished through Blockhub, our platform for creators where they can access capital, community, and consumers, while contributng to dynamic, blockchain-powered micro-economies. Users and developers will be able to download and use Blockhub, enabling them to operate within the ecosystem, manage their cryptocurrency/token holdings, purchase/integrate dApps from the marketplace, and interact with distinct micro-economies, the first of which will be Indie Launchpad. Indie Launchpad will function within Blockhub, and will enable game developers to build, crowdfund, and launch their games.


StableUnit
There is no doubt that digital currencies are the future of financial systems. Bitcoin has proved that borderless censorship-resistant forms of money are possible and have a demand. However, most of the cryptocurrencies remain speculative assets and will never replace money by design. They are designed to be inflationary at a roughly constant rate which doesn't respond to the growth of the demand. Long term bitcoin could be a great investment but it has little chance of becoming the money we use day to day. StableUnit believes that the true mass adoption of digital money can only be possible with monetary policy baked in into the token itself. StableUnit solves that by building a decentralized multi-layer stabilization mechanism which ensures StableUnit's price is always equivalent to the price of $1 USD


HyperVote
HyperVote was founded on the premise that current voting platforms are flawed. Whether voting as a member of a strata, or as a shareholder for a publicly listed company, voting is susceptible to a lack of transparency, accuracy and security. In the worst cases these lead to over votes and fraud. Even functioning voting platforms make it impossible for a voter to be certain that their vote was correctly counted.
Utilizing the Hyperledger Fabric blockchain, HyperVote aims to remove the pain points that currently exist in voting platforms. HyperVote is being developed to produce a voting platform that allows for greater transparency, by allowing users to track their votes; greater accuracy, as each vote is linked to a unique hash; and greater security as transactions in a blockchain are immutable and can be audited with ease.


Cozystay
Founded in January 2015, Cozystay is headquartered in Vancouver, British Columbia, Canada and has a sales and technical office in Beijing, China. It is the first Chinese offshore vacation rental platform catering to global departures from China and local Chinese vacationers. The company has 25 employees and 60,000 users, with over 200,000 listings in 500 cities across 20 countries.
Cozystay also has a property management company, Cozy Living Suites Inc. (CozyLiving), which manages 300 accommodations in Vancouver, Toronto, Seattle and Los Angeles. The company has received Scientific Research and Experimental Development (SR&ED) tax grant for 2016 and 2017, In May 2018, Cozystay was one of fifteen finalist to win the Belt and Road Accelerator Innovation Entrepreneurship Competition in Xiamen, China. There were 200 exhibitors from 30 countries that participated.
By Q3, 2018, Cozystay anticipates to have 750,000 vacation rental properties through partnerships with companies that also participated at the conference. Cozystay is a member of Vacation Rental Management Association (VRMA.org) which provides education, information, networking, research, and advocacy to help our members strengthen their business and create enjoyable, memorable guest and homeowner experiences.
7:25 - 7:30 Community Shoutouts
7:30 - 8:00 Networking