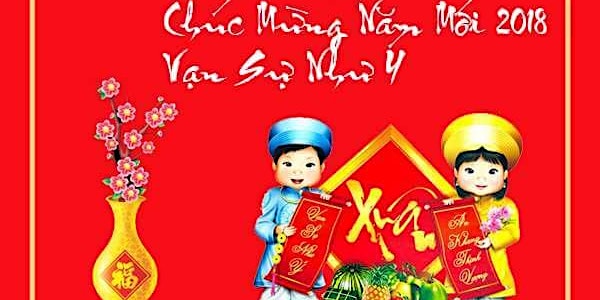 TET! Vietnamese Lunar New Year @ City Hall
Event Information
Location
Mississauga City Hall
300 City Centre Drive
Mississauga, ON L5B 3C1
Canada
Description
The very FIRST Vietnamese New Year celebration at Mississauga City Hall is here!!
The Canadian Vietnamese Network, Thoi Bao Canada, Voice Canada, the Republic of Vietnam Veterans Association, and the Phap Van Buddhist Cultural Center have organized a Vietnamese New Year celebration at City Hall on Wednesday, February 7th from 1:00 pm. to 3:00 pm at the Mississauga City Hall Main Atrium, 300 City Center Dr, Mississauga.
This event will be attended by the Mayor and members of the Mississauga City Council. Be sure to stay for the whole program which includes a lion dance, ethnic dance and lunch! Free admission! Please register early and get your ticket ASAP!
City Mississauga sẽ phối hợp với Thời Báo, Cộng đồng Mississauga, Canadian Vietnamese Network,Voice Canada, Hội Cựu Quân Nhân QLVNCH, Trung tâm Văn hóa Phật giáo Pháp Vân tổ chức lễ mừng Xuân Mậu Tuất vào ngày thứ tư 07/02 từ 1:00 pm đến 3:00 pm tại Mississauga City Hall Main Atrium, 300 City Centre Dr, Mississauga- L5B 3C1. Có sự tham dự của bà Thị trưởng và các nghị viên Hội đồng thành phố Mississauga. Chương trình: Múa lân, vũ dân tộc, ăn trưa- Tham dự miễn phí. Vào cửa tự do. Xin ghi danh sớm và cho biết số người tham dự để ban tổ chức chuẩn bị thực phẩm. Liên lạc ghi danh: Đỗ Kỳ Anh (416) 417-8098, James Nguyễn (416) 738-3261, Julia Lê (647) 272-4665.
Date and time
Location
Mississauga City Hall
300 City Centre Drive
Mississauga, ON L5B 3C1
Canada