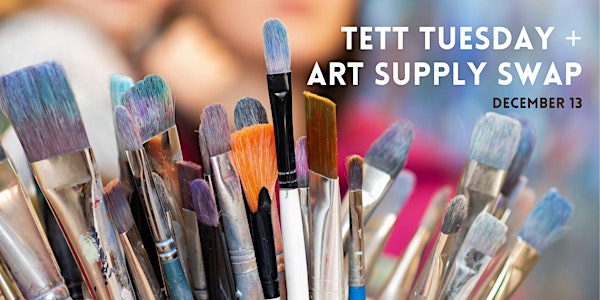 Multiple dates
Tett Tuesdays – Open Studio
Grab an art / craft project and join us for an open studio session! Expand your social circle, network with other artists, share tips + more
By Tett Centre for Creativity and Learning
Date and time
Tue, Sep 13, 2022 6:30 PM - Tue, Apr 11, 2023 8:30 PM EDT
Location
Tett Centre for Creativity and Learning 370 King Street West Kingston, ON K7L 2X4 Canada
Refund Policy
Contact the organizer to request a refund.
Eventbrite's fee is nonrefundable.
About this event
TETT TUESDAYS – OPEN STUDIO
Free | 18+ | All mediums + skill levels welcome
Next session: December 13, 6:30PM in the Rehearsal Hall*
*Join us at 6PM for an art supply swap, followed by our regular Tett Tuesday session from 6:30-8:30PM
We'll be kicking off our December Tett Tuesday session with an art supply swap! In our experience, every artist/maker has supplies from a medium that didn't quite click, or one they no longer utilize that's sitting untouched in some corner of their home or studio. If this applies to you, bring your unwanted art supplies to the Tett for someone else to enjoy! You can browse the supplies other artists have brought and see what catches your eye — maybe there's a new medium you'd like to try, or someone else has brought your favourite brand of pencil crayons. This is not a one-for-one trade or bartering system, everyone is welcome to contribute and everyone is welcome to browse!
The art supply swap will take place at 6PM, and our regular Tett Tuesday session will kick off at 6:30PM
About Tett Tuesdays
Looking to expand your creative circle? Join us for Tett Tuesdays! On the second Tuesday of the month, the Tett and community artists get together for an evening of creativity, conversation, and connection. This free community program helps participants to build confidence in the arts and promotes wellness through creativity. Tett Tuesdays provide a platform for peer-to-peer mentorship, where artists can share skills and resources, ask questions both big and small, and develop collaborations. Grab an art or craft project and join us at the Tett! Share what you've been working on, seek and offer advice, and participate in a variety of art-focused group discussions.
All mediums and skill levels are welcome, barring open flames. If you have any questions, please contact Nicole Daniels at arts@tettcentre.org
Tett Tuesday is fuelled by donations from the community, please donate online (either via the registration portal, or on our Canada Helps page - please indicate that your donation is for Tett Tuesdays) or add a contribution to the donation box in person.
2022–2023 Season Dates:
September 13, 2022, 6:30-8:30PM
October 11, 2022, 6:30-8:30PM * Facilitated by Sasha French
November 8, 2022, 6:30-8:30PM
December 13, 2022, 6:30-8:30PM* Preceded by an Art Supply Swap at 6PM
January 10, 2023, 6:30-8:30PM
February 14, 2023, 6:30-8:30PM
March 14, 2023, 6:30-8:30PM
April 11, 2023, 6:30-8:30PM
Join the Tett Tuesday Facebook Group!
Click here to join the Tett Tuesday Facebook group. The group is set to private, but all are welcome! The Tett Tuesday Facebook group maintains a line of communication between participants and the Tett, allowing us to share information about the program, and enabling participants to share photos and updates about their artwork. Join our community today!
Donate
Donations to the Tett assist in running free community programs like Tett Tuesdays and our Kids Creativity Club. Donations play an important role in helping us to improve access to a wide range of arts and culture experiences and educational opportunities designed to enrich our community.
Donate today: https://www.tettcentre.org/donate
About the organizer


The Tett Centre for Creativity and Learning is a Not-for-Profit, charitable organization that operates an historic city-owned building on Kingston's waterfront. We provide professionally equipped and affordable space to artists and arts organizations for artistic creation.
We are home to eight tenant arts organizations, eight resident artist studios, and three multi-use rentable public spaces. We are a dynamic arts hub that coordinates and creates high-quality, accessible, arts-focused programming for all levels of artistic abilities and experience.
Our partners include artists, arts and community organizations, The Isabel Bader Centre for the Performing Arts, and the City of Kingston's Department of Cultural Services.
As a unique cultural landmark for Kingston residents and area visitors, we enhance learning and public participation in the arts.