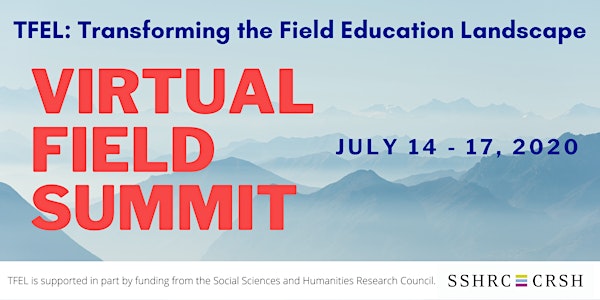 TFEL Virtual Field Summit: Wise Practices from the Indigisphere to the Land
Join us for our Virtual Field Summit to focus and collaborate on issues facing social work field education!
About this event
A plenary session, panel presentation, breakout discussions, workshops, and digital stories have been organized to discuss the context of social work field education. Topics to be covered include the state of field education, digital storytelling, practice research, transformational learning, and indigenous field education. This Summit is designed for social work educators, students, researchers, and practitioners. This event is eligible for Continuing Education Credits.
This workshop will share wise practices in Indigenous field education at the bachelors and graduate level that challenge the content and the practice of field education in undergraduate and graduate programs. The author will discuss Indigenous violence and trauma-informed field education in shifting spaces of learning including online learning, field education, university classroom settings and land-based learning.  Several wise practice case examples will be presented to advance and contest the knowledge of how violence is enacted and addressed in social work field education and to better understand Indigenous and decolonial teaching strategies to addressing trauma, and violence in a variety of spaces. Western notions of field education, trauma and of safety will be challenged, centering instead Indigenous violence-informed practices for healing and learning.  Topics covered will include how to address issues of sovereignty, wellness; safety and identity in online and blended learning environments, considerations of place and location when using digital technologies, and addressing safety, wellness, and violence/trauma-informed learning in shifting educational spaces. Theory, curriculum development and innovative teaching strategies will be shared.
Included in this registration is access ONLY to the Workshop: Wise Practices from the Indigisphere to the Land: Indigenous Intersectional Violence and Trauma-informed Field Education in Shifting Spaces of Learning.
In order to register for the Welcome, Plenary Session, & Panel Presentation, Breakout Discussions, and other Workshops, please explore the links below:
Organizer of TFEL Virtual Field Summit: Wise Practices from the Indigisphere to the Land
TFEL is a partnership project that aims to better prepare the next generation of social workers in Canada by creating training and mentoring opportunities for students, developing and mobilizing innovative and promising field education practices, and improving the integration of research and practice in field education.