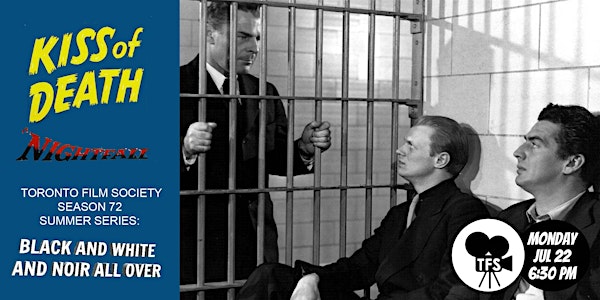 TFS Summer Series Double-Bill: Kiss of Death & Nightfall
Event Information
Location
Innis Town Hall
2 Sussex Avenue
Toronto, ON M5S 1J5
Canada
Refund policy
Refunds up to 1 day before event
Description
Feature Film #1: KISS OF DEATH 1947 (98 min.)
Dir. Henry Hathaway w. Victor Mature, Brian Donlevy, Coleen Gray, Richard Widmark.
In this famous gangster saga, Mature is solid as a thief who can't stay straight but turns state's evidence. However, it's hard to compete with Widmark's remarkable film début as a giggling, psychopathic killer! Filmed on location in New York.
Feature Film #2: NIGHTFALL 1956 (78 min.)
Dir. Jacques Tourneur w. Aldo Ray, Brian Keith, Anne Bancroft, Jocelyn Brando.
An excellent film noir adapted from a David Goodis novel and given the right fatalistic touches by director Tourneur. Innocent Ray is implicated in a murder, then chased by the killers who think he has their loot. A rock solid cast and great location work in L.A.
Date and time
Location
Innis Town Hall
2 Sussex Avenue
Toronto, ON M5S 1J5
Canada
Refund policy
Refunds up to 1 day before event