Event Information
Location
1 University Ave
16th floor OMERS (Brant and Durham Rooms)
Toronto, Ontario M5J 2P1
Canada
Description
Visit our open house to experience firsthand how advanced speeches and detailed evaluations continue your growth as a Toastmaster. Our special guest speaker Roger Caesar is a two time semi-finalist at the world championship of public speaking.
Date: 23-June-2017 Friday
Time: 12:00 - 1:00 PM
Location: 1 University Ave, Toronto, ON M5J 2P1, Canada (16th floor OMERS Brant and Durham Rooms Room )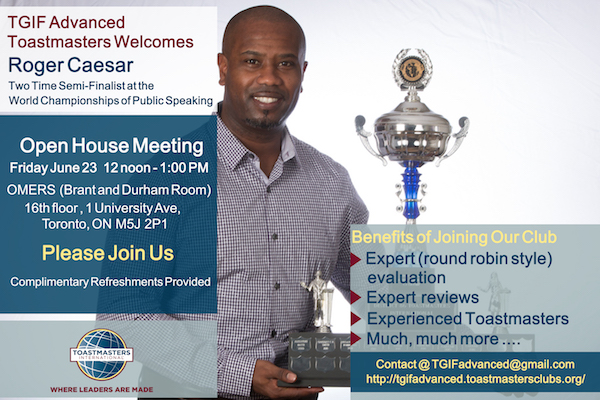 After attending our event, you'll have a better understanding of how to:
Take your communication skills to the next level
Engage and connect with your audience
Become a professional speaker and a leader
Achieve a commanding executive presence
Benefits of the Advanced Toastmasters Program:
Expert evaluation
Round robin evaluation
Panel evaluation
More effective feedback skills
Improved Impromptu Speaking
Time management
Greater confidence
And much more ....
For More Information Contact TGIFadvanced@gmail.com
Date and Time
Location
1 University Ave
16th floor OMERS (Brant and Durham Rooms)
Toronto, Ontario M5J 2P1
Canada