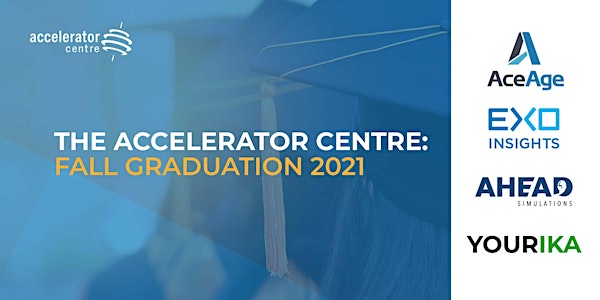 The Accelerator Centre: Fall Graduation 2021
Come help us celebrate the companies who've shown us what it takes to join the ranks of Canada's top tech companies.
About this event
The Accelerator Centre: Fall Graduation 2021
Friday, October 22, 2021 | 3:00 p.m. - 4:00 p.m. EST | Online Event
Join us to celebrate the incredible startup journeys of AceAge, EXO Insights, Ahead Simulations and YourIKA as they graduate from The Accelerator Program.
After four phases, over 400 milestones, and years of riding the ups and downs of entrepreneurship, these companies have shown the world they have what it takes to join the ranks of the elite by graduating from The Accelerator Program.
Our graduate wall is composed of Canada's top tech companies, the best-of-the-best. We're looking forward to celebrating with you as we add four more outstanding companies to the wall and launch the AceAge, EXO Insights, Ahead Simulations and YourIKA teams into the next phase of their successful startup journey.
While we aren't able to gather in person, that won't stop us from throwing a party! We've got a fun and exciting virtual celebration planned that will include some surprises that you won't want to miss!
Agenda
3:00 p.m. - 3:15 p.m. | Opening Ceremony & Welcoming Remarks
3:15 p.m. - 3:45 p.m. | Graduation Ceremony
3:45 p.m. - 4:00 p.m. | Closing Remarks
We welcome you to join us and be a part of this very special event.
Questions?
For more information, please contact the AC team at info@acceleratorcentre.com.
Learn more about our newest graduates:
EXO Insights
Gain an advantage, strengthen your team morale, reinforce mental and physical development through human performance enhancement. EXO Insights Human Performance Management prepares your team to perform at their best in high-risk, high-stress environments. Collect precise behavioral data from custom-designed simulations with advanced biometrics sensors integrated with live and virtual reality systems
AHead Simulations
AHead Simulations is a medical simulation company advancing the quality of patient care within hearing healthcare. Through their range of CARL simulation products, AHead is creating better learning opportunities for both hearing healthcare professionals and their patients.
YourIKA
YOURIKA's smart technology enables learning experiences that unlock the potential in every student.
Their flagship product ORBITS is a smarter, faster and more supportive way for teenage students to experience online learning. Students quickly access their content, connect with like-minded peers and classmates, and ORBITS takes care of the rest. First, the platform automatically curates and organizes content. Then, as students engage, ORBITS proprietary AI assesses their understanding of the material to make recommendations and connect students to the resources they need to save time, stress less and achieve more.
AceAge
AceAge Inc., through the support of the Accelerator Centre has developed and commercialized the Karie™ in-home smart pill companion that organizes, schedules, and delivers medication. The easy-to-use system adapts to patient's routines, reminding them with visual and sound prompts to when it is time to take their medication. The Karie™ app allows caregivers to be notified if the patient misses doses, supporting timely interventions and promoting medication adherence. Since 2020, AceAge Inc. closed a CA $5 million Series A financing round and $1.5 million in FedDev Ontario repayable contribution, supporting their aggressive global growth strategy. Karie is now available in 5 countries including Canada and the United States.
We love our community and like to show it off.
As we adapt to a new normal, please be advised that our Accelerator Centre virtual sessions will be recorded and shared with session participants and Accelerator Centre clients and may be used on our website and social platforms. By attending this session, you consent to be recorded and your comments may be used at the discretion of the Accelerator Centre.