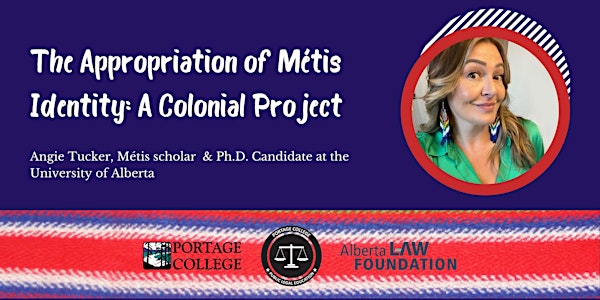 The Appropriation of Métis Identity: A Colonial Project
Discussion on the appropriation of Métis identity and its impacts on the inherent rights of authentic Métis communities.
By Portage College Public Legal Education
Date and time
Thu, Jun 1, 2023 11:00 AM - 12:00 PM PDT
About this event
Abstract of Talk:
There cannot be a single experience of a people, and yet mainstream society continues to romanticize and essentialize the narratives and boundaries for Métis inclusion and recognition. This process is a colonial project that only works to further separate us from our communities, and histories, and contributes to our own questions of selfhood and belonging. This has made many people confused over who and what constituted being Métis. In this talk, we will explore the issues that surround the appropriation of Métis identity. These false claims continue to be connected to colonial violence, and dispossession, and as a barrier to the inherent rights of authentic Métis communities.
Guest Speaker:
Angie Tucker is a Métis scholar whose family is from the historic communities of St. Andrews and Poplar Point in Manitoba. She is a member of the Manitoba Métis Federation and Métis Nation of Alberta, and Ph.D. Candidate at the University of Alberta in the Faculty of Native Studies. Angie is currently focused on collecting oral stories about the everyday experiences of contemporary Métis women in southwestern Manitoba to uncover how they and their families have navigated and responded to the ever-changing social, political and economic pressures of 1940-1990. Her areas of specialization include presenting and publishing on topics such as: missing and murdered Indigenous women, identity, media, Indigenous feminism, relationships with the land, land-based education, and the role of memory and storytelling as systems for contemporary Indigenous knowledge.
This session will be held online via Zoom. Please check the email you register with for log-in details which will be emailed to registrants the day before the session.
Please visit PLEonline.ca or our Eventbrite event listings page for information on other upcoming free public legal education events.
About the organizer
Educating Albertans on the law and legal system since 2001!​  since 2001!​