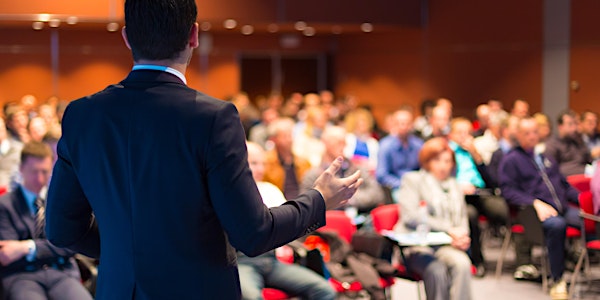 The Blockchain Society Berlin Conference w Ocean Protocol, Xain, Arweave +
When and where
Location
Dentons Markgrafenstraße 33 10117 Berlin Germany
Refund Policy
Refunds up to 1 day before event
Description
The Blockchain Society Conference: October 25th Leadership Conference at Dentons Berlin
The Blockchain Society is hosting a special conference exclusively for investors, regulators, corporate and blockchain thought leaders in partnership with Dentons. (Invite only). Confirmed speakers include Ocean Protocol, Xain, BrickBlock and Arweave.
Schedule

9:00 - 9:30: Registration.
9:30 - 9:45: Opening remarks by The Blockchain Society.
9:45 - 10:05: Keynote by Stephan Rind, CEO of BrickMark.
10:05 - 10:20: Keynote by Gonzalo Slik, Head of Business Development at Brickblock.
10:20 - 10:45: Scaling Challenges with Simon Schwerin, Sam Williams, Ricardo Garcia, and moderated by Zaki Manian
10:50 - 11:15: Break
11:15 - 11:40: Security Tokens with Czhang Lin, Stephan Rind, Gonzalo Slik and Moderated by Robert Michels of Dentons
11:45 - 12:10: Keynote by Don Gossen, Executive Director at BigchainDB and co-founder of Ocean Protocol.

12:15 - 12:40: Blockchain Marketing with Don Ho, Ella Cullen, Anna George and Moderated by Thomas Schubert
12:45 - 1:30: Networking
Speakers:
Sam Williams is the CEO of the Arweave project, a network providing permanent information storage for the first time. Sam has been building decentralised and distributed systems with Erlang, from operating systems to blockchains, for around 10 years. He is also a PhD candidate at the University of Kent.

Gonzalo Sanchez Slik is the Head of Investor Relations and Business Development at Brickblock (brickblock.io), a Berlin-based blockchain startup tokenizing real estate and other assets. He builds global partnerships with international clients' markets interested in utilizing Brickblock's platform to tokenize their portfolios. He has worked for various startups and consulting firms in China, the United States, and Germany with a passion for growing teams and international networks. He is drawn to cryptocurrency and the blockchain due to the technology's potential to change markets. Brickblock did an ICO and received a Series A VC investment (Finch Capital) all totalling 12 million EUR

Simon Schwerin, Director of BusDev, is an accomplished professional in matters of blockchain and privacy. He has worked with enterprises on blockchain solutions for roughly three years now. Having written his Master's thesis with special attention to the General Data Protection Regulation (GDPR). He holds a M.Sc. in Business Intelligence and Process Management from Berlin School of Economics and Law, as well as a Bachelor's in International Business.Previously he worked in business strategy and project management at BigchainDB. He also has experience in the financial, healthcare and IT-consulting sectors. Simon is the Director of Business Development and Investor Relations at Xain.
Thomas Schubert, LL.M. (Boston) is a partner in Dentons' Berlin office. He is part of the Corporate/M&A as well as Venture Technology groups. Thomas focusses on advising national and international companies and investors on M&A transactions, corporate reorganizations and insolvencies. Furthermore, he advises clients on private equity investments, venture capital participations and joint ventures. Thomas' main area of expertise lies within the technology sector. He has a particular focus on the energy and renewable energy industry. Further engagements of Thomas include advising clients from the IT industry and aspiring growth companies on the implementation of innovative digital business models, including blockchain technology. Prior to joining Dentons, Thomas was a partner at another leading technology focused law firm.

Robert Michels is Managing Partner of Dentons' Frankfurt office and co-heads the European and Global Capital Markets groups at Dentons. Robert specializes in capital markets, banking and securities law as well as alternative financing. He advises national and international clients in connection with listings/IPOs/SPOs on European and US Stock Exchanges as well as with corporate bonds. In this context he advises listed companies with regard to compliance and post-listing obligations and issuers of structured products (warrants, certificates and bonds). He also represented several trading firms and traders in connection with trading compliance. Another focus of Robert is the alternative finance industry and SME financing, making him a recognized expert in crowdfunding as well as initial coin and token offerings and overall cryptocurrency compliance issues. In this regard he advises FinTech companies as well as crowdinvesting and crowdlending platforms.
Don Ho of Quantstamp is an investor with global perspectives and cross-functional experiences supporting investments, product, and growth. I have a keen interest in meeting founders, corporates, and investors; and have built innovation ecosystems in SF, LA, and Southeast Asia.
Stephan Rind is the CEO of BrickMark. He is an entrepreneur and Business who started as an Investment Banker in New York and Dusseldorf. In 2002 he started Colonia Real Estate and formed the company to the 3rd largest listed Residential Real Estate in Germany. The company was taken over by TAG in 2011
Don Gossen is the Executive Director at BigchainDB and co-founder of Ocean Protocol. He has spent the better part of the last 15 years travelling the world wrangling data, and it is his goal at Ocean Protocol Foundation to change the way in which people and companies manage and work with data. Leveraging the power of blockchain and decentralization, Ocean will combine the elegance of immutable provenance and incentive structures with the fundamental principles of data governance and distributed processing to create a new data economy. Prior to joining Ocean, Don worked in IT consulting as an SME in Business Intelligence, Data Analytics, and Big Data. His work has taken him to London, Tokyo, and Los Angeles prior to landing him in Berlin.
Ricardo Garcia currently acts as Chief-of-Staff to the CEO at BigchainDB. Previously, he led business development at BigchainDB, focused on acquiring enterprise, government and start-up customers and developing partnerships for private blockchain implementation projects. Before joining the blockchain space, Ricardo worked in Strategy Consulting for Financial Services at Ernst & Young and Equity Trading at UBS. Aside from the occupation at BigchainDB, Ricardo is involved in IPDB, a German non-profit focused on creating a public, decentralized database and a set of other projects aiming at bringing the Berlin blockchain ecosystem closer together. Ricardo holds a Master degree in Banking & Finance from the University of St. Gallen and a Master degree in International Management from the CEMS Global Alliance.
Zaki Manian, Executive Director of Trusted IoT Alliance, is a prolific contributor to the development of blockchain and cryptocurrency technology. Zaki has deep expertise in cryptography and distributed consensus system. He is also an advisor to the Cosmosproject, and several other investment funds and startup in the space.

Anna George is the regional manager for APAC at Gnosis, a Berlin-based blockchain start up that builds new market mechanisms to enable the distribution of resources—from assets to incentives, and information to ideas. She holds a M.Sc. in International Management for China from SOAS and is driving the Business Development of Gnosis in the Asian market. She previously worked for the United Nations in New York and Panama and has a strong interest in applications that drive social impact!
Czhang Lin of JRR Crypto Managing Director. Asia Israel Blockchain Association Advisor; Former Pre-Angel Blockchain Investment Fund Investment Director; Successfully listed a family-owned company on the Warsaw Stock Exchange in 2014; Beijing Tsinghua University and Insead School of Business EMBA. Graduated in electrical engineering from the University of Western Ontario, Canada;
Silver Sponsor:
Bronze Sponsor:
Community Partner:
Venue Sponsor: