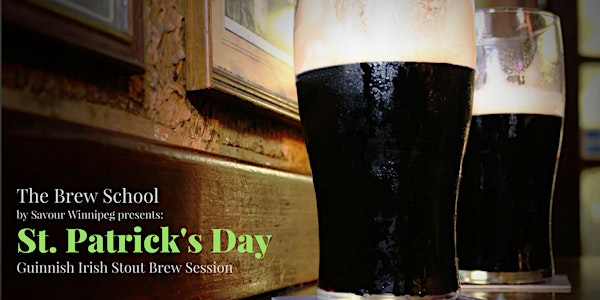 The Brew School's St. Patrick's Day Stout
When and where
Location
The Irish Association of Manitoba 654 Erin Street Winnipeg, Manitoba Canada
Refund Policy
Refunds up to 7 days before event
Description
About The Brew School
This four-hour beer eduction event will teach you the basics of small batch brewing with all-grain. You'll get hands-on instruction from an experienced brewer, understand how ingredients, history, geography and method have created this (and other) unqique beer styles.
In this session, we'll be creating an Irish Stout we call Guinnish cause it's a little bit like that iconic Irish beer.
At the end of the day, you'll have a solid understanding of all grain brewing, the history of this style of beer, and take home your very own batch of ready to ferment beer that will you can hoist high in time for St. Patrick's Day.
All this along with the tools and knowledge to continue brewing small batch beer at home if you wish.
What you'll get:
Hands-on instruction
All ingredients supplied
1 Gallon primary fementation pail
32 oz Howler Bottle with lid
Beer (well wort...fermentation takes time)
Carbonation tablets
Agenda:
Registration - 1:30 - 2:00
Mashing-in - 2:00
Beer Basics - 2:00 - 3:00
Sparging - 3:30
The Boil & Hops - 3:30 - 4:30
The Big Chill - 4:30
Break & Beer History - 4:30 - 5:30
Packaging for transport - 5:30 - 6:00
For more information, visit www.TheBrewSchool.beer