Refund policy
Refunds up to 7 days before event
Eventbrite's fee is nonrefundable.
Description
The Foundation for Self-Discovery (Live not pre-recorded)
**LAST DAY TO ENROLL** for Wednesday's cohort!
I created a workshop that would provide a positive shift in the quality of people's lives. It's why I became a coach after 30 years of being a paramedic.
The Foundation for Self-Discovery is designed to help individuals achieve more power to be effective in all aspects of their life. To gain more confidence and to just enjoy life more.
If you could change just one aspect of your life, what would it be?
Would it be in your health, your business, or your relationships?
What about your finances or your fun and leisure activities? Are they where you want them to be?
Would you think, feel, and act differently than you do today if you were able to get better results or transform one of those areas?
"To be yourself in a world that is constantly trying to make you something else is the greatest accomplishment." ~Ralph Waldo Emerson
It all starts with an understanding of who you have become so far.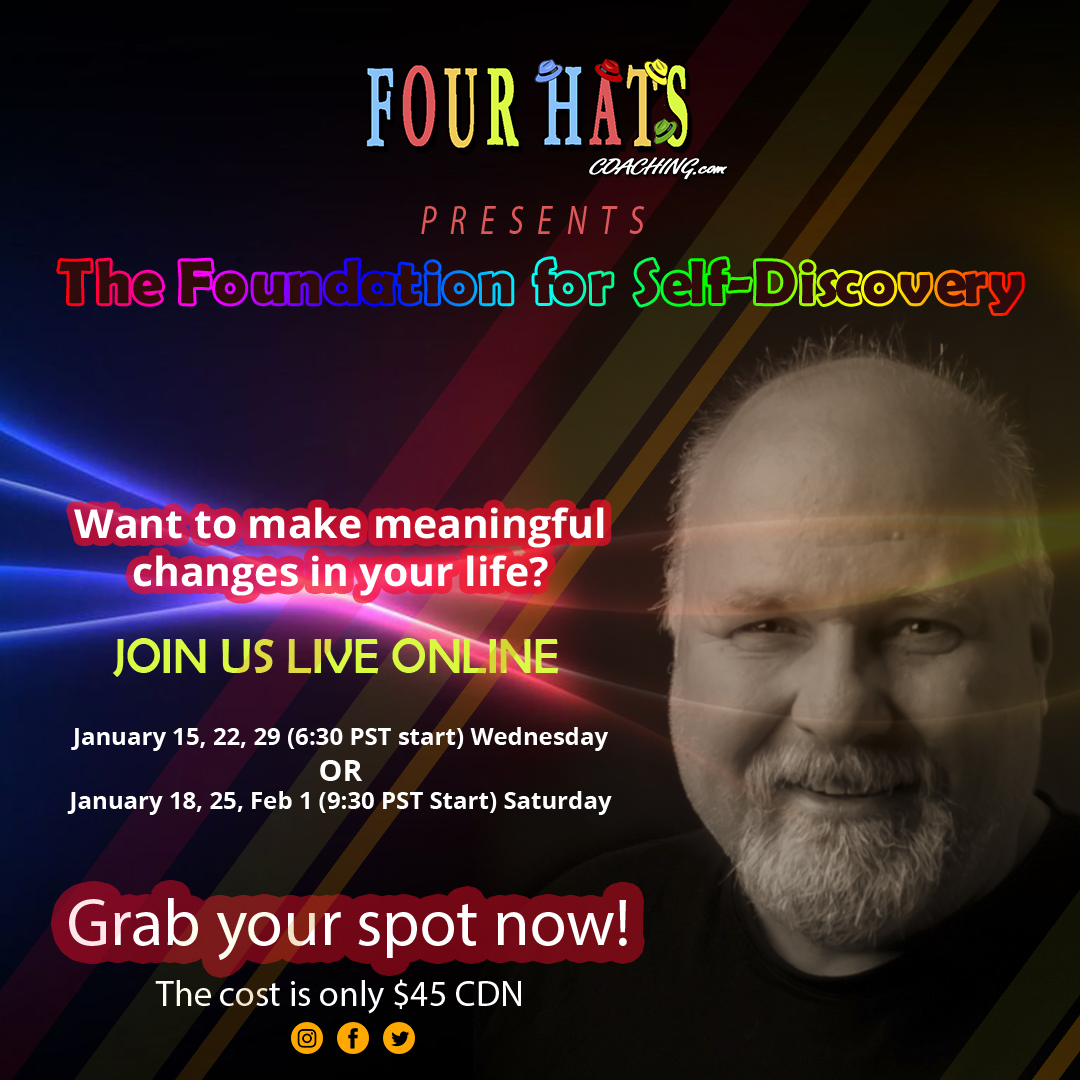 The coaching workshop is conducted online, over 3 weekly sessions. Each session builds on the previous one, with exercises and activities to do in between.
By the end of the 3 sessions you will:
Understand what makes you tick, why you do what you do.
Assess various areas that make up your life
Learn what it will take to make meaningful changes
Put an action plan together to successfully make those changes
Your future is in you.
An awakened lion is far more powerful than a thousand sleeping sheep, but that lion does not eat by merely dreaming of sheep.
Take action on your future by signing up today.
IT IS TIME TO BREAK THE GLASS CEILINGS IN THE MOST CRITICAL AREAS OF YOUR LIFE!
---
Rick Ruppenthal, is your coach, mentor, and facilitator for this brand new online live workshop. He has taken 40 years of accumulated knowledge and experience in personal empowerment and put together this interactive live workshop that you will be able to participate in the comfort of your own home. He is also a retired paramedic of 30 years, an educator, a recognized leader in Emergency Services and a cancer survivor.
"Your past only describes you, it does not define you.: ~ Rick Ruppenthal
"When I discover who I am, I'll be free" ~Ralph Ellison, Invisible Man
---
Participation is limited to 10 per class.
The workshop consists of 3 evening sessions, 2-hours each
There are 2 start date offers:
January 15, 2020, starting at 6:30 P.M. Wednesday (remaining sessions are on Jan 22, 29)
or
January 18, 2020, Starting at 9:30 A.M. Saturday (remaining sessions are on Jan 25, Feb 1)
Since this is the first time that this face to face workshop is online, the cost is only $45 CDN to you.
Grab your spot now!
---
FAQs
Any requirements for the workshop?
Yes. You will need access to a computer. The program we use is called ZOOM Meetings. You don't need a super-fast computer, just an internet connection and you are good to go. Instructions for logging in will be provided one week prior to the workshop start.
Are there any pre-workshop materials?

Yes. Prior to the start of your workshop material will be sent out with information and exercises that will need to be completed prior to your start date. Please allow 1 to 2 hours for completion.
What do I bring to the event?
Your full attention! Bring a notebook or journal, any completed homework requested, and a beverage. I find chocolate is also beneficial to have on hand.
What's the refund policy?
Full refund provided 7 days prior to the start of the event.
Can I switch between course dates?
No. Once you sign up for one cohort, you have to remain in that group to keep the integrity for each cohort.
---