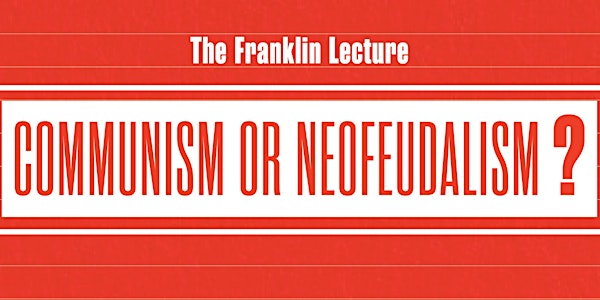 The Franklin Lecture with Jodi Dean
The Franklin Lecture with Jodi Dean
When and where
Location
Innis Town Hall 2 Sussex Avenue Toronto, ON M5S 1J5 Canada
About this event
Doors open at 6:30 PM, talk starts at 7:00 PM
Lecture: Communism or Neofeudalism?
On a rapidly warming planet, we see the super-rich seizing and hoarding ever more common resources and products of common labor. Is this capitalism on steroids or might this be something worse than capitalism? This talk presents "neofeudalism" as a name for tendencies in the present. It also draws out counter-tendencies that, when politically activated, could direct us to a better, communist, future.
The Franklin Lecture is held each year at Innis College's Town Hall in honour of the enduring legacy of Ursula Franklin. Franklin, a former professor at the University of Toronto's Department of Metallurgy and Materials Science, published prolifically on the structure and properties of metals and alloys as well the history and social impact of technology. In 1984 she became the first woman to be honoured with the title of "University Professor" by the University of Toronto. Dr. Franklin continues to be known for both her significant scientific achievements and her contributions to the humanities and community justice.
This lecture has been established in order to continue in the tradition of Franklin's vital conversations between Science and Technology Studies and the Humanities. More specifically, the Franklin Lectures will feature invited scholars who bring the critical study of science, media, and politics to bear in their visions of new political futures.
The Franklin Lecture is a collaborative venture between Innis College's Writing & Rhetoric Program, OISE Department of Social Justice Education, the McLuhan Centre for Culture and Technology, the Knowledge Media Design Institute, and the Centre for the Study of the United States.
Jodi Dean is Professor of Political Science at Hobart and William Smith Colleges. She is an influential political theorist and feminist media scholar whose monographs include Blog Theory (Polity, 2010), The Communist Horizon (Verso, 2012), and Comrade: An Essay on Political Belonging (Verso, 2019).
Copies of Jodi's new book, Comrade (Verso, 2019) will be available for sale at the event.