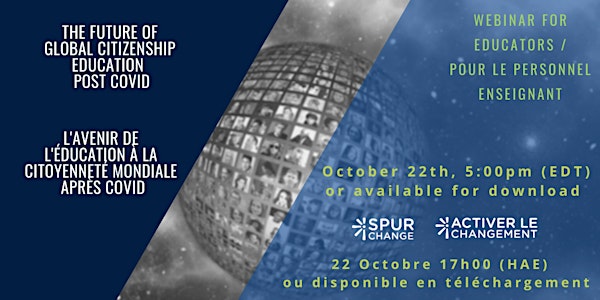 The future of Global Citizenship Education Post Covid
How different GCE models respond to today's challenges ? / Comment les différents modèles d'ECM répondent aux défis actuels ?
About this event
Le texte en français suit
This webinar aims to spark a conversation around how different Global Citizenship Education models respond to today's challenges during the COVID pandemic. We'll explore best practices, innovations and shortcomings drawing from Canadian and international experiences. You may participate in the webinar live ( by Zoom ), or you can register to watch it on your own time and we will send you a link to the recorded video.
During the COVID-19 crisis, the first educational answers focused on minimizing the impact of confinement and school closures. Now, schools in many jurisdictions and countries are reopening, although questions linger about the safety of personnel and students, particularly with increasing community transmission of the virus.
From a pedagogical perspective, the pandemic is more than an interruption of "normality" that can be solved with new digital learning models, social distancing and hygiene measures. There is a collective challenge "to promote empathy and to encourage democratic forms of engagement and collaboration among citizens and governments from other regions of the world" (Estellés & Fischman, 2020).
A simultaneous translation service (English-French) will be offered.
************************************************************
Ce webinaire a pour objectif de susciter une conversation sur les façons dont les différents modèles d'éducation à la citoyenneté mondiale répondent aux défis actuels pendant la pandémie de la COVID. Nous explorerons les meilleures pratiques, les innovations et les lacunes en nous inspirant d'expériences locales et internationales. Vous pouvez participer au webinaire de manière synchrone (zoom direct) ou vous pouvez vous inscrire pour le regarder en asynchrone et nous vous enverrons un lien pour télécharger la vidéo enregistrée.
Pendant la crise de la COVID-19, les premières réponses éducatives se sont concentrées sur la minimisation de l'impact du confinement et de la fermeture des écoles. À l'heure actuelle, les écoles de nombreux pays et territoires rouvrent leurs portes, bien que des questions subsistent quant à la sécurité du personnel et des élèves, notamment en raison de l'augmentation de la transmission du virus au sein des communautés.
D'un point de vue pédagogique, la pandémie est plus qu'une interruption de la « normalité » qui peut être résolue grâce à de nouveaux modèles d'apprentissage numérique, à la distanciation sociale et à des mesures d'hygiène. Il y a un défi collectif à relever «pour promouvoir l'empathie et à encourager des formes démocratiques d'engagement et de collaboration entre les citoyens et citoyennes, et les gouvernements d'autres régions du monde » (Estellés & Fischman, 2020).
Un service d'interprétation simultanée (anglais-français) sera proposé.
Marta Estellés, PhD, Assistant Professor of Didactics of Social Sciences at the Universidad de Cantabria (Spain)
Tanya St-Jacques, LL.B, B.A, B. Éd., Primary teacher at the Commission scolaire Marguerite-Bourgeoys (Québec) and initiator of the Le Choeur des Altruistes ("The Altruists' Choir"), an international grouping of citizens committed to developing simple and adaptable projects.
Girma Shimelis Muluneh, PhD, Senior Education Officer at Partners in Education (Ethiopia) and participant of the Spur Change Youth Champion Program.
*******************************
Marta Estellés, PhD, professeure assistante de didactique des sciences sociales à l'Universidad de Cantabria (Espagne)
Tanya St-Jacques, LL.B, B.A, B. Éd., enseignante au primaire à la Commission scolaire Marguerite-Bourgeoys (Québec) et initiatrice du Choeur des Altruistes, un regroupement international de citoyennes et citoyens engagés dans le développement de projets simples et adaptables.
Girma Shimelis Muluneh, PhD, Senior Education Officer chez Partners in Education (Ethiopie) et participant au programme de jeunes leaders d'Activer le changement