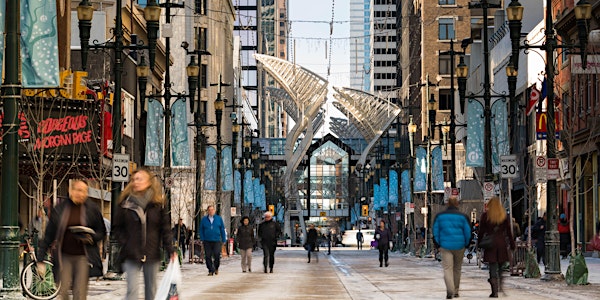 The Future of Stephen Avenue: Vision and Road Map Presentation
The Calgary Downtown Association and The City of Calgary are reimagining Stephen Avenue and want to share our road map for the future.
About this event
EVENT LOG-IN INFORMATION
The presentation can be accessed by clicking HERE at the time of the presentation (5:30 p.m.).
We're reimagining Stephen Avenue, from City Hall to Mewata Armoury, and want to share the results of our Public Realm Study, including our plans to implement strategic improvements that will re-position Stephen Avenue, and ensure its future as Calgary's hallmark main street.
Calgary's hallmark main street.
We've spent the past two years meeting with business and property owners, gathering feedback from Calgarians, and surveying how they use Stephen Avenue during different times of the year. This engagement has guided the development of the public realm study, focusing on urban design, economics, planning policy and mobility.
Please register to attend our virtual open house to learn more about the project, our public realm plan and provide feedback that will be shared live with the audience. You will be emailed a link from the project team to join us on Microsoft Teams prior to the session. The invite will include "how-to" instructions for Microsoft Teams.
If you are unable to attend, please visit our Engage Portal site to provide feedback between October 20 - November 10 at engage.calgary.ca/stephenavenue.
To learn more about the project, please visit calgary.ca/stephenavenue.
The presentation will also include an update on 1M, an exciting new initiative that partners with downtown building owners to test concepts, accelerate leasing and revitalize neighborhoods.
About the project
The Future of Stephen Avenue, a partnership between the City of Calgary and the Calgary Downtown Association (CDA) puts people at the center of reinventing Stephen Avenue as downtown Calgary's main street.
We are developing fresh ideas for the entire length of Stephen Avenue from Olympic Plaza to 11 Street SW. The project team has been sparking conversations about how Stephen Avenue can reach its fullest potential, and is translating those ideas into meaningful actions.
This project is focused on:
extending the energy and liveliness of the pedestrian mall westward along 8 Avenue S.W.
establishing a new vision for Stephen Avenue that creates opportunities for private investment and redevelopment
creating short and long-term strategies that can be implemented over time to make Stephen Avenue better for Calgarians and visitors
The Future of Stephen Avenue project supports the future of Calgary's downtown by:
investing in public infrastructure to create destinations and experiences for Calgarians and visitors
supporting the development of businesses and encouraging private investment in downtown Calgary
developing amenities to enhance the quality of life for people living downtown
creating connections for people, goods, information and ideas in our downtown