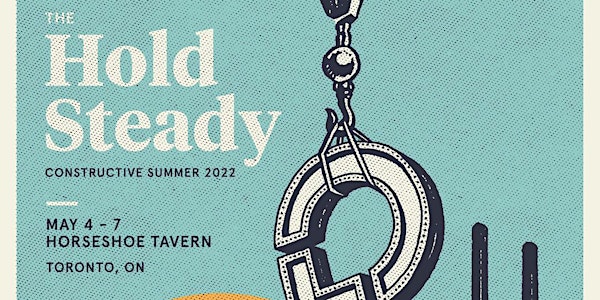 The Hold Steady
The Horseshoe Tavern Presents
Location
The Horseshoe Tavern
370 Queen Street West
Toronto, ON M5V 2A2
Canada
The Hold Steady on September 15-18, 2021 has been rescheduled to May 4-7, 2022 at The Horseshoe Tavern.
About this event
All original tickets will be honoured on the new date:
September 16, 2020 ---> September 15, 2021 --->May 4, 2022
September 17, 2020 ---> September 16, 2021 ---> May 5, 2022
September 18, 2020 ---> September 17, 2021 ---> May 6, 2022
September 19, 2020 ---> September 18, 2021 ---> May 7, 2022
Formed in 2003, The Hold Steady have released eight albums, numerous singles and played over 1000 shows.
The Brooklyn-based band has performed in all 50 states in the USA and throughout Canada, Europe and Australia. The Hold Steady music has appeared across movies, advertising and TV, including on Game Of Thrones and Billions, in addition to writing original material for Seth Meyers cartoon The Awesomes and Meyers' 2019 stand-up comedy special Lobby Baby.
In February 2021, The Hold Steady released their most recent record, Open Door Policy, which achieved the highest chart position of any The Hold Steady release, debuting #6 on the Bill-board Current Album Chart. Vulture hailed that the record "expands their horizons," and "gives the Hold Steady new heft and variety without undercutting the sharpness of the hooks or singer-guitarist Craig Finn's heart-wrenching novelistic lyricism."
2022 will see the band returning to their extended multi-show runs in cities across the globe, including The Weekender in London, England in March. Following that are appearances in Toronto, Melbourne (Australia), Nashville, Atlanta, Denver and Los Angeles, before the their classic December Massive Nights weekend in Brooklyn at Brooklyn Bowl.
The Hold Steady is: Bobby Drake (drums), Craig Finn (vocals), Tad Kubler (guitar, vocals), Franz Nicolay (keyboards, vocals), Galen Polivka (bass), and Steve Selvidge (guitar, vocals).