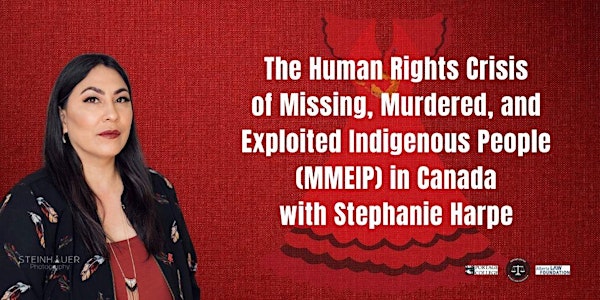 The Human Rights Crisis of Missing, Murdered & Exploited Indigenous People
Stephanie Harpe shares her powerful story and speaks to human and Indigenous rights violations and abuses in Canada
About this event
Join us and learn how Ms. Harpe is bringing awareness to the Murdered Missing and Exploited Indigenous People (MMEIP) crisis in Canada. She will speak to the persistent and systemic human and Indigenous rights violations and abuses which are the root cause behind Canada's staggering rates of violence against Indigenous Peoples. When people are targeted for violence because of gender or because of Indigenous identity, their fundamental rights have been abused; And when they are not offered an adequate level of protection by state authorities because of gender or because of Indigenous identity, those rights have been violated and become a human rights issue.
This is the first in a two part series facilitated by Stephanie Harpe. Part two will be held via Zoom sometime in January or February and will focus on priority actions that are needed to make Turtle Island safe for Indigenous Peoples whose lives have been impacted by violence; ways we can all confront and end violence and inequality waged against Indigenous Peoples; and the different resources and legal remedies that are available to family and support persons of MMEIP.
Please sign up for our newsletter to be notified of upcoming events/workshops.
NOTE: Zoom log-in details will be emailed the day prior to the session. Please check the email you register with. Should you have issues registering or accessing the event, please email shelley.jackson@portagecollege.ca