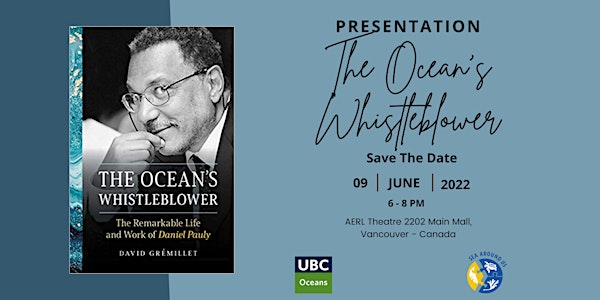 The Ocean's Whistleblower: presentation of Daniel Pauly's biography
An evening to learn about the life and work of Daniel Pauly in the words of the Ocean's Whistleblower himself.
Date and time
Thu, Jun 9, 2022 6:00 PM - 8:00 PM PDT
Location
AERL Theatre (room 120) 2202 Main Mall Vancouver, BC V6T1Z4 Canada
About this event
This event, organized by the Sea Around Us initiative with the support of UBC's Faculty of Science, the Institute for the Oceans and Fisheries and the French Consulate in Vancouver, looks for attendees to get to know Dr. Daniel Pauly's contributions to science first-hand, all examined by the world's most-cited fisheries scientist himself through an interview with renowned journalist Peter Klein (CBS, Global Reporting Centre).
Dr. Pauly is the mind behind the idea of the shifting baselines syndrome, which explains how knowledge of environmental disaster fades over time, leading to a misguided understanding of change on our planet, and the fishing down marine food webs concept, which describes how in certain parts of the ocean, fisheries have depleted large predatory fish and are increasingly catching smaller – and previously spurned – species lower in the food web.
These overarching notions have brought him worldwide recognition, as has the creation of FishBase, the online, free encyclopedia of all fish, and the Sea Around Us, a research initiative that has reported massive declines in global fisheries catches in recent years. The future of his legacy projects will be discussed as well during the talk.
Learn more about Daniel Pauly's biography here https://bit.ly/paulyqa
About the organizer
The Sea Around Us is a research initiative at the University of British Columbia's Institute for the Oceans and Fisheries, with an Indian Ocean branch at the University of Western Australia. The project is led by Daniel Pauly and Deng Palomares in Vancouver, and Dirk Zeller in Perth and it focuses on assessing the impact of fisheries on the marine ecosystems of the world.
The Sea Around Us provides data and analyses through View Data and articles in peer-reviewed journals. The project regularly updates its products at the scale of countries' Exclusive Economic Zones, Large Marine Ecosystems, the High Seas and other spatial scales, and as global maps and summaries.
Contact
Valentina Ruiz Leotaud
+1.604.827.3164