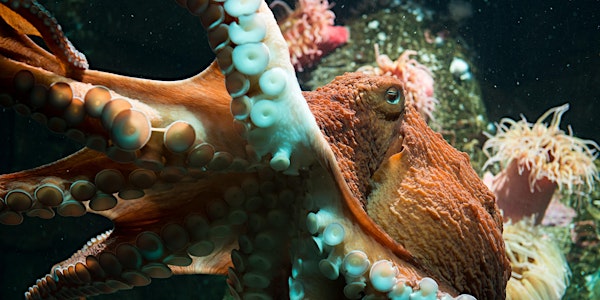 The Octopus's Garden: Planning for Sea Level Rise
By The Pacific Water Research Centre and the Pacific Institute for Climate Solutions
Date and time
Thu, Jun 8, 2017 7:00 PM - 9:00 PM PDT
Location
Vancouver Aquarium - Aquaquest Entrance 845 Avison Way Vancouver, BC V6G 3E2 Canada
Description
May 15th Update
Please note we are fully subscribed to this talk as is the wait list of 25 spots. We will be livestreaming it via the Vancouver Aquarium's Facebook page and will post the link when it is available. We hope you will join us digitally if you are not able to get a spot.

~~~~~~~~~~~~~~~~~~~~~~~~~~~~~~~
Who will be tending your vegetable garden when the ocean rises? An octopus? A seastar? The Octopus's Garden series features experts on sea level rise from a wide variety of backgrounds who will address ways we can adapt and build resilience, with a focus on local to global challenges and solutions. The first talk in this series will explore local issues and solutions as we celebrate World Oceans Day.

Abstract:
Imagine the City of Vancouver without the sea wall. Angela Danyluk, Sustainability Specialist with the City of Vancouver, will share emerging ideas as the City begins to plan for a meter of sea level rise by 2100.

The coast of British Columbia may be significantly affected over the next 50 years by sea level rise, increased storms, and erosion - what are coastal communities doing to ensure they are resilient? John Readshaw is the lead author for the updated provincial government guidelines related to adaptation for sea level rise. He will explore the science and physical challenges to adapting to sea level rise, what to expect, and what some communities are doing in preparation.

Much of Vancouver is already built to the edge of the foreshore, so how can we adapt? SFU City Program Manager and former senior urban planner with Bing Thom Architects Andy Yan has mapped the effects of sea level rise and more intense storms and will discuss planning approaches and options we might consider.

Join us for a free public talk and discussion to explore how we can build resiliency in Vancouver and along the coast of British Columbia.

Bios:
Angela Danyluk is a Sustainability Specialist at the City of Vancouver where she works across disciplines on projects and programs related to adaptation to sea level rise as well as ecology and biodiversity. Angela has a BSc in marine biology, a certificate in storm water management and an MSc in environment and management. She is a Registered Professional Biologist with the BC College of Applied Biology.

John Readshaw is the Manager of Coastal Engineering at SNC-Lavalin. He has over 40 years of experience as a professional engineer in the full range of coastal and ocean engineering fields for a wide range of civil, oil and gas, and port and coastal related projects. John is also the engineering advisor to the Technical Working Group of the GreenShoresTM program and the Green Shores for Homes program developed jointly by the US EPA and the British Columbia Stewardship Program. He is the lead designer/project manager for a number of projects in BC that consider cost effective and sustainable solutions for adapting to the issues that sea level rise will pose for all of us.

Andy Yan is the director of The City Program at Simon Fraser University. He has worked in the non-profit and private urban planning sectors with projects in the metropolitan regions of Vancouver, San Francisco, New York City, Los Angeles and New Orleans. He specializes in the fields of urban regeneration, applied demographics, Geographic Information Systems, neighborhood development, public outreach, and quantitative research. Andy holds a Master of Urban Planning from the University of California – Los Angeles and a BA (First Class Honours) in Geography and Political Science from SFU. Andy is a registered professional planner with the Canadian Institute of Planners and a Certified Geographic Information Systems Professional.

Hosted by the City of Vancouver, the Vancouver Aquarium Marine Science Centre, the Pacific Institute for Climate Solutions, the Adaptation to Climate Change Team (ACT), and the Pacific Water Research Centre in the Faculty of Environment at Simon Fraser University.
About the Octopus's Garden: Planning for Sea Level Rise Series:
Regions around the world are experiencing climate change impacts such as droughts, floods, wildfires, and heat waves, while planning for the long-term effects of sea level rise and coastal storms. These stressors are driving damages and increased costs for communities, and increasing the risk of mass migration. Building on the success of the Resiliency and YOU talk, this series runs from June-November 2017, and features experts on sea level rise from a variety of backgrounds who will address ways we can adapt and build resilience, with a focus on local to global challenges and solutions. Topics to be addressed include the science and physical challenges to sea level rise, local and provincial and international preparations and initiatives, climate refugees, traditional knowledge and indigenous responses to sea level rise, and finally what to expect globally - and what we can do about it locally.

If you would like to receive notice of upcoming talks, please e-mail Laurie Wood, Manager of Community Engagement and Research Initiatives, Faculty of Environment, Simon Fraser University at lauriew@sfu.ca

About the organizer
The Pacific Water Research Centre in the Faculty of Environment at SFU is well-positioned to address complex water issues through cross-disciplinary, community-engaged research to support resilient water systems.  The Centre's vision is to promote research that addresses community concerns around a range of water issues from local and regional to global scales.  The Centre links science and social science with local knowledge to inform policy and change. It fosters community partnerships that build a common understanding of water values as they inform water resource management and security, while also providing a foundation to develop innovative water solutions.
For more information, visit: http://www.sfu.ca/pwrc.html
The Pacific Institure for Climate Solutions (PICS) mission is to establish partnerships with governments, the private sector, researchers and civil society in order to undertake research on, monitor and assess the potential impacts of climate change, and evaluate, develop and promote viable mitigation and adaptation options to better inform climate change options and actions.
PICS is hosted and led by the University of Victoria in collaboration with the University of British Columbia, Simon Fraser University and the University of Northern British Columbia.