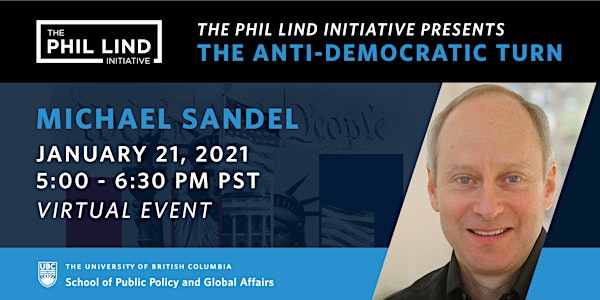 The Phil Lind Initiative Presents: Michael Sandel
Join a talk by political philosopher Michael Sandel on "The Anti-Democratic Turn" as part of the 2021 Phil Lind Initiative at UBC.
About this event
UBC's School of Public Policy and Global Affairs is proud to host Michael Sandel, political philosopher and Professor, Harvard University, for a virtual event as part of our 2021 Phil Lind Initiative series on The Anti-Democratic Turn.
Reserve your ticket today for this free public event. The webinar link and passcode will be shared with registrants prior to the event.
Series: The unprecedented assault on the rules and norms of democracy in the US over the past four years has exposed its vulnerability. The problems have become all too familiar: corruption, disinformation, foreign interference, gerrymandering, social media complicity, voter suppression, and the previously inconceivable threat that the outgoing president would refuse to concede and instead launch a series of futile but harmful legal challenges to democracy itself. Despite the eventual outcome of the presidential election, democracy in the US may not be as resilient as we once thought. If we accept that the previous administration is a symptom of more deeply rooted problems in American society, how do we begin to address these emerging fault lines in the democratic process? How can we protect the integrity of our democracies in an era marked by authoritarian resurgence and nativist backlash?
Learn more about the 2021 series, The Anti-Democratic Turn, here.
Bio: Harvard political philosopher and bestselling author Michael Sandel challenges audiences to examine the ethical dilemmas we confront in politics, business, and our everyday lives. One of Foreign Policy's Top 100 Global Thinkers, Sandel has been described as "the most relevant living philosopher," "a rock-star moralist" (Newsweek), and "the most famous teacher of philosophy in the world." (New Republic). His writings — on justice, democracy, morals, and markets — have been translated into 27 languages.
Sandel's legendary course "Justice" has enrolled over 15,000 students and was the first Harvard course to be made freely available online and on public television. It has been viewed by millions of people around the world, including in China, where China Newsweek named him the "most influential foreign figure of the year."
In his New York Times bestseller Justice: What's the Right Thing to Do?, Sandel takes readers on a fascinating journey of moral reflection and shows how reasoned debate can illuminate democratic life. Justice has sold over two million copies worldwide and inspired public debate about the ethical and civic questions of our time.
In his latest bestseller, What Money Can't Buy: The Moral Limits of Markets, Sandel invites readers to rethink the role that money and markets should play in our lives. One of Foreign Policy's "20 must-read books" of the year, reviewers have called it "brilliant, easily readable, and often funny," an "eloquent argument for morality in public life." Now a six-part series hosted by the Ford Foundation and moderated by the Financial Times' Rana Foroohar, Sandel's "What Money Can't Buy: The Series" will be available for streaming in April 2018.
Sandel served for four years on the President's Council on Bioethics, exploring the ethical implications of new biomedical technologies. This prompted him to write The Case Against Perfection: Ethics in the Age of Genetic Engineering, a book about the moral quandaries that arise when we seek to perfect our children and ourselves. His other books include Democracy's Discontent, Liberalism and the Limits of Justice, and Public Philosophy: Essays on Morality in Politics.
Sandel's lectures have been the subject of television series on PBS and the BBC. His ongoing BBC radio series, "The Public Philosopher," engages audiences in debates about the big philosophical questions lying behind the headlines. He has appeared on The Colbert Report, the Today Show, and Morning Joe.
Described by The Guardian as "the man who is currently the most effective communicator of ideas in English," Sandel's books and online lectures have brought him "the kind of popularity usually reserved for Hollywood movie stars and NBA players." (China Daily) His recent lecture tours have taken him across five continents and packed such venues as St. Paul's Cathedral (London), the Sydney Opera House, and an outdoor amphitheater in Seoul, Korea, where 14,000 people came to hear him speak. For his strong work "on the normative foundations of liberal democracy as well as the defense of civic virtues," Sandel won the Princess of Asturias Award in Social Sciences from Spain, in 2018.
Subscribe to our Phil Lind Initiative Newsletter for updates regarding future events.
Disclaimer: Please note that by using this service, your information will be stored on the Eventbrite server, which is located outside Canada. If you do not wish to use this service, please email lind.initiative@ubc.ca directly to register. Thank you.
Hosted by: