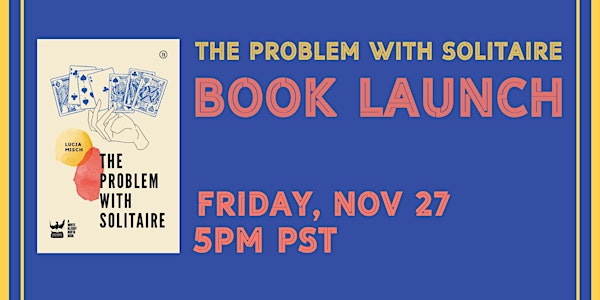 The Problem With Solitaire—Book Launch!
The Problem With Solitaire, is available from Write Bloody North. Join author Lucia Misch and special guests for its online launch!
About this event
About The Event
The Problem With Solitaire launches on November 27th with an evening of poetry, conversation, and connection across distance. Join hosts Jillian Christmas and Chelsea D.E. Johnson, special guests Erin Kirsh, Lishai Peel, Brendan McLeod, Alessandra Naccarato, David Perez, RC Weslowski, and Brandon Wint in celebrating the release of Lucia Misch's first collection from Write Bloody North!
About The Book
From possible apocalypse to the all-night pie diner—from the moon landing, to memory, to the cat's take on death, The Problem With Solitaire considers the question When we play against ourselves, who can win? with curiosity, compassion, and a stubborn refusal to flinch. Less interested in finding answers than pursuing the paradox itself, Lucia Misch's poetry travels through landscapes actual, internal, and imagined with unorthodox insight and wit. Biography, body, meaning, depression, power, grief, self-determination, and disaster are just some of the themes that ride shotgun.
Balancing outlandish visions with moments of bare candor, sincere reverence with shameless cheek, Misch offers readers an agile, eloquent debut collection that never strays too far from its grubby little punk heart.