Join us for an honest, exciting, and interactive networking event aimed at changing the way students perceive retail as a career.
About this Event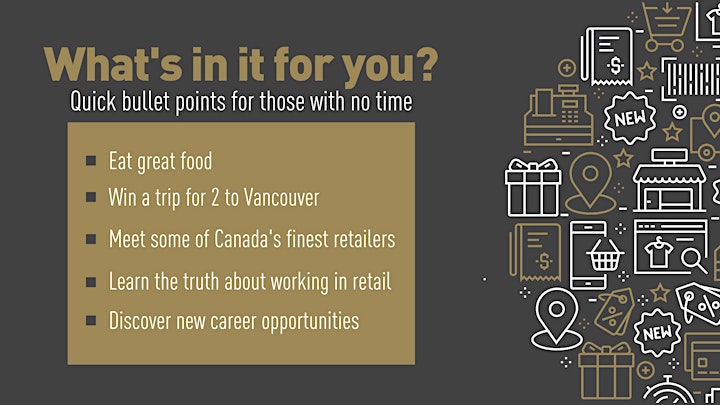 It's time to change the conversation surrounding retail as a career today. That's why we created this event because the truth is, retail is the most dynamic and all-encompassing industry for any business student. A career in retail will offer you autonomy, financial success, and personal fulfillment. Are you intrigued? Well, you should be! By the end of the night, we guarantee you'll have a new respect for retail and plenty of genuine connections with some of the top industry leaders in Canada. And if you're lucky, you might be on your way to Vancouver with a friend for an all-expenses paid trip courtesy of Fairmont Hotels & Resorts and Flair Airlines!
Itinerary:
5:30 PM - 6:00 PM: Registration
This is a great time to go over the networking one-liners you wrote down last night. Or perhaps you need a quick pep talk in the bathroom mirror to calm the nerves! Whatever the case, don't forget to get outside your comfort zone and meet some new faces!
6:00 PM - 7:30 PM: Interactive Networking Dinner
This isn't your typical networking dinner where you get stuck next to the same person and make small-talk for an uncomfortable amount of time before your table number is called. Nope, we are kicking it up a notch!
First, there will be several delicious food stations set up so you can choose exactly what you want to eat from anywhere in the room!
Next, you can choose to sit anywhere you want since the seating arrangement will be different from traditional formats. Just make sure you are able to move around freely!
Finally, we are playing a dinner game! Here's how it works:
1. Find an industry leader in the room
2. Ask them a question no other student has asked them yet (the longer you wait, the more difficult it gets!)
3. If you are successful - they will give you a ticket and probably a business card
4. At the end of the dinner, put your tickets in a draw for the grand prize from Fairmont Hotels & Resorts and Flair Airlines … a trip for 2 to Vancouver for 3 nights at the 5-star Fairmont Pacific Rim Hotel and $1000 in spending money!
7:30 PM - 8:30 PM: Retail Lifestyle Panel
This is where you get to learn about the reality of working in retail that you won't find on Google. Our panel made up of young industry leaders will show you a side of retail you never knew existed. Meet our panel below!
8:30 PM - 9:30 PM: Award Presentation and Keynote Speech
As an annual event, each year we will reward one retailer with an award of distinction that recognizes efforts dedicated to pushing retail beyond its traditional scope and reimagining what is possible within the industry. This year, a keynote speech on Purpose Based Branding will be given by Rachel Mielke, Founder & CEO of Hillberg & Berk. To learn more about Rachel and her journey, scroll down below!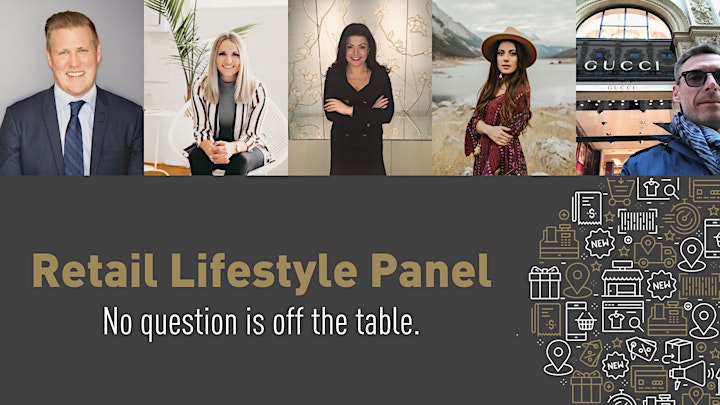 Meet Our Retail Lifestyle Panel:
Laura Smythe | Director | Tiffany & CO Edmonton
Manager and currently is the Director for Tiffany & Co. in Edmonton. She graduated from the University of Alberta's Commerce program in 2007 and has been a member of the School of Retailing Advisory Board since 2016. Laura is passionate about giving back to the community and presently co-chairs the Silver Bell Soirée as part of the Festival of Trees, supporting the University Hospital Foundation.
Jamie Bay| Chief of Staff | Customer Experience | ATB Financial
Jamie Bay works at ATB Corporate where she works directly with her Executive Vice President to lead operations, culture, strategy and communications for over 600 employees. Jamie is also a Certified Life Coach and Founder of The Wellness Warrior. The Wellness Warrior offers wellness workshops, panel sessions and life coaching that empowers women in Edmonton to show up as their courageous selves every day. Jamie completed her Bachelor of Commerce Degree at the U of A in 2014 where she majored in Marketing and minored in Bus Law and Psychology. When she's not at the office, Jamie enjoys running, vino with her girl friends, reading too many wellbeing books, snowboarding, yoga and much more!
Eric Slatter | Partner at Omada Commerical
"After graduating from the Alberta School of Business, I did a short stint working for Burton Snowboards. Thereafter my career took an unexpected turn to Retail Real Estate and I've been here ever since (13 years now). I did not even know this was a career when I went to school, and now I cannot imagine doing anything else. I love the creativity, flexibility, uniqueness, and opportunity that this industry provides. It has been a very rewarding career and created an amazing lifestyle for me and my family."
Vanessa Juilo | Marketing Manager | Londonderry Mall
"I'm an Alberta School of Business School Alumni, currently working as the Marketing Manager of Londonderry Shopping Centre. I absolutely LOVE my job because it's the most non-redundant, well-rounded position I have ever been in. During my spare time, I do a ton of commission art and graphic design freelance work, but in the summer you'll find me somewhere in the woods exploring!"
Roman Drohomirecki | Executive VP and COO of Retail | Ivanhoe Cambridge
Since graduating from the Albertra School of Business, Roman has worked in the commercial real estate industry for more than 30 years, gaining extensive experience in various areas, such as operations, leasing, marketing, sustainability and asset management. He is responsible for all operational and leasing aspects of Ivanhoé Cambridge's shopping centres Retail Platform in Canada and contributes to the success of redevelopment and expansion of existing centres.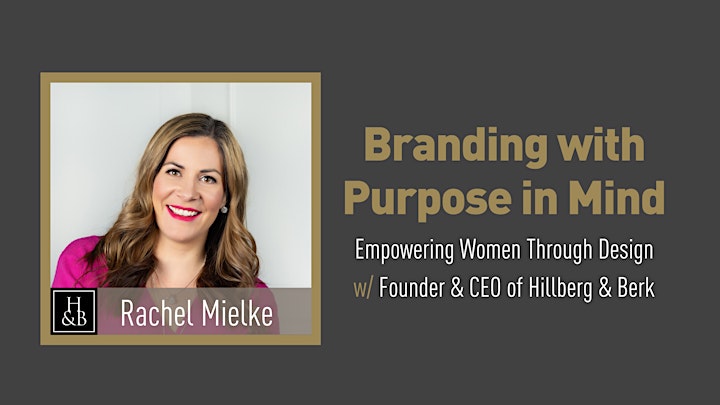 Meet Our Keynote Speaker:
Rachel Mielke | Founder & CEO | Hillberg & Berk
Like many students on a budget, Rachel rarely splurged on something like expensive jewellery. But when she was 23, she began experimenting with making her own jewellery from materials she could afford. When her jewellery got the approval of her savvy girlfriends, she combined her passion for design with her entrepreneurial spirit to form Hillberg & Berk (named after her grandma Hilda Bergman and her dog Berkley). Her business quickly grew from a kitchen table operation to one of Saskatchewan's most beloved jewellery brands with 9 retail locations (soon to be 11) in Western Canada. A large part of Hillberg & Berk's brand is based on Rachel's purpose of empowering and supporting women through design. That's why Rachel is the perfect person to deliver this incredible speech on purpose based branding and how it's impacted her own journey in retail.
Odds and Ends:
Our Sponsors:
A huge thank you to all the followings sponsors who have made this event possible!
ATB Financial
Ivanhoe Cambridge
Flair Airlines
Fairmont Hotels & Resorts
University of Alberta Marketing Association (UAMA)
Dress Code:
We aren't strict on the dress code but odds are you want to make a good first impression so we suggest something along the lines of business casual. Maybe now is a good time to do a little online shopping at Aritzia or Simons!