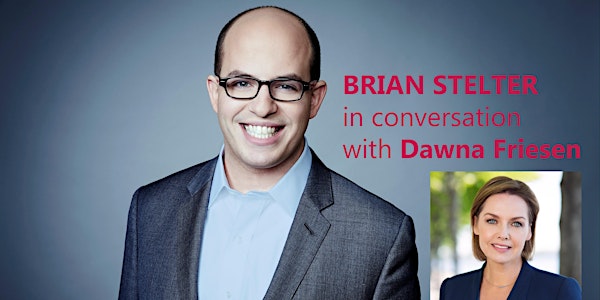 The Reliable Source in the Age of Misinformation: A Conversation with Brian Stelter
By The Canadian Journalism Foundation
When and where
Date and time
Wed, Jan 31, 2018 7:00 PM - 9:30 PM EST
Location
Corus Quay (Atrium) 25 Dockside Drive Toronto, ON M5A 1B6 Canada
Description
CJF J-Talks: Journalism matters.
#CJFjtalk

In partnership with



This event is sold out. Follow the J-Source liveblog, the livestream or #CJFjtalk on Twitter. Video and podcast will be available after the event.
You can't be well-informed about the media and journalism if you don't pay attention to the stellar work of CNN senior media correspondent Brian Stelter. Through his must-watch Sunday morning show, Reliable Sources, which examines the week's top media stories, and his must-read Reliable Sources newsletter, Stelter's media literacy work shines light on real news amid the cacophony of noise and nonsense of a presidency that seeks to demonize journalists and spreads accusations of fake news. Stelter will be in conversation with Dawna Friesen, anchor of Global National.
Doors open: 6:30pm | Discussion 7:00pm | Reception 8:30pm
ABOUT THE SPEAKERS
BRIAN STELTER is the host of Reliable Sources, which examines the week's top media stories every Sunday at 11:00 a.m. ET on CNN/U.S, and the senior media correspondent for CNN Worldwide. Stelter reports and writes for CNN/U.S., CNN International, CNN.com, and CNNMoney.com on a regular basis. Prior to joining CNN in November 2013, Stelter was a media reporter at The New York Times. Starting in 2007, he covered television and digital media for the Business Day and Arts section of the newspaper. He was also a lead contributor to the Media Decoder blog. @brianstelter
DAWNA FRIESEN is the anchor of Global National, the flagship national newscast for Global News. During her more than 30 years as a journalist, Friesen has been on the front lines of history, including the election of Donald Trump as President. Prior to joining Global National, Friesen was a senior foreign correspondent for NBC News, based in in London. During her 11 years there, she travelled extensively across Europe and the Middle East, covering the wars in Afghanistan and Iraq, spending months in Israel and Gaza during the conflict there, following the disappearance (and murder) of journalist Daniel Pearl in Pakistan, and covering events in Russia, including terrorist attacks in Moscow and Beslan. Her work appeared on NBC Nightly News, Today and MSNBC, and she won an Emmy award for election night coverage when President Barack Obama won his first term. @DFriesenGlobal


CJF J-TALKS SERIES SPONSOR
IN-KIND SUPPORTERS


About the organizer
Founded in 1990, The Canadian Journalism Foundation promotes, celebrates and facilitates excellence in journalism. The foundation runs a prestigious awards and fellowships program featuring an industry gala where news leaders, journalists and corporate Canada gather to celebrate outstanding journalistic achievement and the value of professional journalism. Through monthly J-Talks, a public speakers' series, the CJF facilitates dialogue among journalists, business people, academics and students about the role of the media in Canadian society and the ongoing challenges for media in the digital era. The foundation also fosters opportunities for journalism education, training and research. Please visit us at http://cjf-fjc.ca.