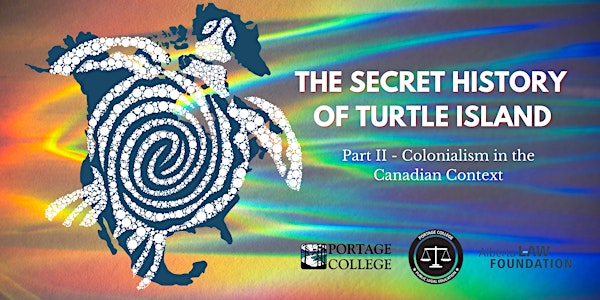 The Secret History of Turtle Island, Part II (Webinar)
This workshop #2 on the legal history of Canada in relation to Indigenous peoples. Part I is linked below.
By Portage College Public Legal Education
Date and time
Thu, Jun 22, 2023 12:00 PM - 2:00 PM PDT
About this event
The history and structures of colonialism are largely unknown to most Canadians; Yet understanding this history is essential to understanding the myriad of current issues in Indigenous - Canadian relations.
This two part workshop series will examine Indigenous historical and contemporary experiences in order to understand the legacy of settler colonialism and affirm Indigenous self-determination. Participants will gain understanding of Indigenous Peoples' agency, resistance, and activism in resisting settler state agendas and laws that were aimed at dispossession of lands, resources and loss of languages and cultures. We will also discuss how Indigenous Peoples continue to protect their inherent rights as Peoples, assert Treaty rights and revitalize their ties to land, culture and languages.
In Part 1 we will examine the Doctrine of Discovery and how it led to the manifestation of Canada. Participants will gain understanding of how the laws of Canada were aimed at the dispossession and cultural genocide of Indigenous Peoples.
In Part 2 we will learn more about "the colonial project" in Canada and Indigenous Peoples' agency, resistance, and activism in resisting settler state agendas and laws. We will examine how tools like the TRC Calls to Action and UNDRIP can be pathways to reconciliation in Canada.
Certificates will be available to those who attend both sessions.
Details on how to join this session on Zoom will be emailed 1 day prior. If you do not receive the invitation, please contact the host at shelley.jackson@portagecollege.ca
Please visit PLEonline.ca or our Eventbrite event listings page for information on other upcoming free public legal education events.
About the organizer
Educating Albertans on the law and legal system since 2001!​  since 2001!​