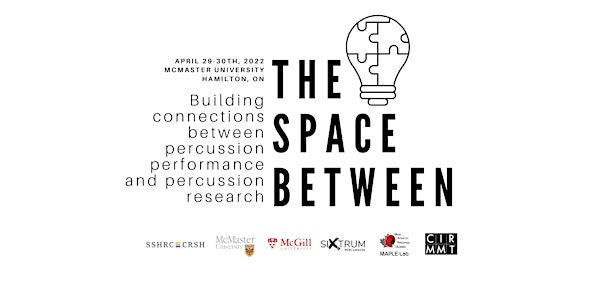 The Space Between
Building connections between percussion performance and percussion research
When and where
Location
L.R. Wilson Hall 1280 Main Street West Hamilton, ON L8S 4L8 Canada
About this event
Although traditional music curricula offer ample training in music performance, research skills receive comparatively little coverage. Whereas focusing solely on performance was adequate in the past, tomorrow's musicians also need the ability to explore pressing questions pertinent to their musical interests. This effort will advance ongoing efforts towards building a nationwide network of percussion educators. Sharing new developments in both research-creation (new works for percussion, different approaches to performance) and percussion-focused research (i.e.,examining percussionists eye movements, analyzing percussion acoustics) will help build community between percussionists across Canada.
By exploring the "space between" these typically siloed efforts, students and faculty alike will make new connections and begin to benefit from a wider range of perspectives and expertise.
Bien que les programmes académiques en musique offrent traditionnellement une vaste formation en interprétation musicale, les compétences en recherche y sont relativement peu couvertes. Alors qu'il était suffisant par le passé de se concentrer sur la seule performance, les musiciens de demain ont également besoin de développer la capacité d'explorer des questions pertinentes à leurs intérêts musicaux. Cet événement fera progresser les efforts en cours vers l'établissement d'un réseau national d'éducateurs en percussion. Le partage de nouveaux développements à la fois en recherche-création (nouvelles œuvres pour percussions, différentes approches de la performance) et en recherche axée sur les percussions (comme par exemple la synchronisation œil-main ou l'analyse de l'acoustique des instruments à percussion) contribuera au développement de la communauté de percussionnistes à travers le Canada.
En explorant « l'interstice » entre ces efforts généralement cloisonnés, les étudiants et les professeurs établiront de nouveaux liens et bénéficieront d'un plus large éventail de perspectives et d'expertises.
If unable to attend the conference, please consider attending The Space Between Evening Concert on Friday April 29th at 8pm EST.
Attendee Information (Parking, Accommodations, and COVID-19 protocols)
Parking
The Concert Hall is located in L.R. Wilson Hall, a building on McMaster University's central campus near the Sterling and Forsyth entrance. The closest parking areas are Lot B, Lot C and LRW Underground parking. Rate and accessible parking information can be found here.
Accommodations
The Visitors Inn has a special rate for attendees of The Space Between conference, subject to room availability. If booking with the Visitors Inn, please mention that you are a part of "The Space Between" conference to secure the discounted rate.
Other accommodations (without discounted rates) can be found at The Admiral Inn, Staybridge Suites, Homewood Suites by Hilton, and the Sheraton Hamilton. All hotels are located near bus routes that travel to McMaster University.
Important Health and Safety Information
In order to minimize uncertainty and disruption to students, staff, faculty and university communities, Ontario universities, including McMaster, will maintain their COVID-19 vaccination and masking policies until at least the end of the term (April 30th). All attendees must abide by McMaster University's COVID-19 Health and Safety Procedures, including McMaster University's Visitor Vaccination Policy.
***Should these provisions change, you will be notified immediately of changes***
Masks must be worn at all times by attendees.
Upon arrival, attendees will be asked to show visual proof of one of the screening tools listed below. If an audience member is unable to provide proof of vaccination or if they have symptoms of COVID-19 or are otherwise unable to successfully complete the provincial government's COVID-19 self assessment, they will not be able to attend the performance.
Students, Faculty and Staff
All McMaster faculty, students and staff are required to complete daily COVID screening via MacCheck before coming to a McMaster location.
Visitors
To attend a McMaster location, all visitors must download and use the McMaster Safety App to provide proof of full COVID-19 vaccination at least one hour before their first time attending a McMaster location. For ease of entry, we suggest attendees do this at least 72 hours before the day of their event.
In addition, all individuals must not attend a McMaster location if they have symptoms of COVID-19 or are otherwise unable to successfully complete the provincial government's COVID-19 self-assessment.