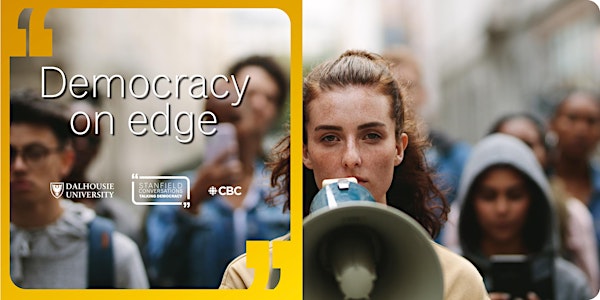 The Stanfield Conversations: Talking Democracy - "Democracy on Edge"
Join us for an exciting new series that brings some of the world's preeminent thinkers together to discuss the issues facing democracy.
About this event
Dalhousie University's Stanfield Conversations: Talking Democracy series builds on the legacy of Rt. Hon. Robert L. Stanfield, former Premier of Nova Scotia and leader of the federal Progressive Conservative Party. This series will focus on critical challenges to democracy and imaginative and inspiring responses to them. Through the Conversations, we aim to tackle subjects of national and international importance, drawing on diverse, world-class thinkers and practitioners of democracy to do so.
The first Conversation features Professor Charles Taylor, an internationally celebrated Canadian political philosopher whose wide-ranging work has bridged philosophical theory and political action, and Professor Simone Chambers, a leading international specialist in democracy studies - and as it happens, Taylor's niece.
Addressing the theme of Democracy on Edge, Taylor and Chambers will engage in a wide-ranging conversation on the sources of sinking trust in democracy, and new directions to address contemporary challenges. Beginning with the rise of 'populism' and what it means for democracy, they will also discuss the role of disinformation in our new, hyper-partisan and increasingly splintered digital landscape as well as institutional reforms to restore citizen trust. The moderator is Dalhousie alumnus and host of CBC's Power and Politics, Vassy Kapelos (MA'06).
Cost: Free
Thursday, Sept. 23, 7–9 p.m. (Atlantic Time)
The Rebecca Cohn Auditorium, Dalhousie Arts Centre, 6101 University Avenue, Halifax and via live stream.
Sign up is required to attend in person. If you prefer to watch the event live online at home, register for the access details. The event is free to attend.
Safety Guidance
This is a limited capacity event. More seats will become available if provincial gathering limits are increased prior to the event date.
Please be prepared to wear a non-medical mask at this event if you are attending in person. We are asking everyone to wear masks in indoor spaces on our campuses throughout the month of September.
Additional Information
The series is supported by an Advisory Council of respected Canadians from across the country – many prominent practitioners and scholars of democratic politics - led by co-chairs the Rt. Hon. Joe Clark and the Hon. Anne McLellan (former Prime Minister and Deputy Prime Minister respectively). Operational activities are managed by a Dalhousie-based Organizing committee, supported by the President's office, Communications, Marketing & Creative Services, the Faculty of Arts and Social Sciences, and the Department of Political Science.
Visit www.dal.ca/fass/talking-democracy to learn more.
Contact
Please contact rlsconv@dal.ca if you have any questions about the Stanfield Conversations.