Pro tips for all founders hacking the pandemic: Let's talk about growth!
About this event
Bridge for Billions & Hubspot for startups joined forces to bring you.. The Startups Growth Masterclass Series!
Signup now to join Emily Lin from HubSpot for Startups for a masterclass on growth marketing.
In this workshop, Emily will cover how HubSpot uses the 'Pirate Metrics' and marketing analytics to optimize their marketing for growth and take a deep dive on what it means to practice growth marketing using this methodology:
🚀 THE GROWTH HACKING GUIDE FOR STARTUPS 🚀
✔️ What is growth marketing?
✔️ The various components of 'Pirate metrics'
✔️ Going deep into analytics
✔️ We'll follow this with a Q&A at the end.
Register & Add to CALENDAR 📆 ➡️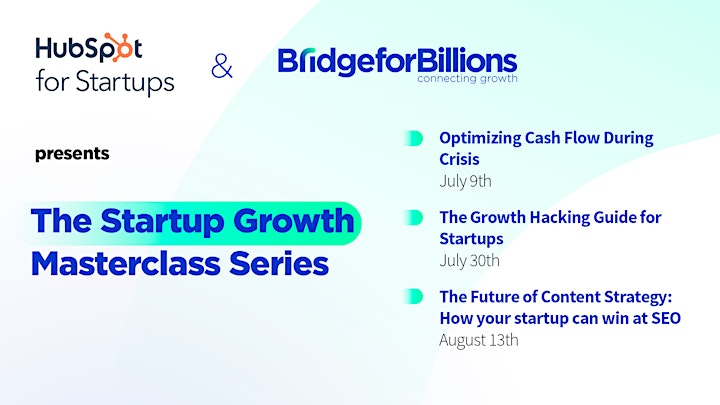 ****
🎙 Meet our guest speaker!
Emily is the Head of Partnerships for the HubSpot for Startups program based in NYC, a startup coach and a frequent speaker. In her role, she builds comprehensive resources designed to help founders at the earliest stages of their journey, whether they are at the idea, pre-seed or early stage of development. Resources are a mix of events, year-round founder engagement and intensive hands-on workshops. She is a financier turned startup enthusiast who has previously worked in the capital markets before venturing into the startup world. Prior to HubSpot, she was a VP of Business Development at Everest Ventures. Leveraging her background on venture investments and functional experience advising startups, she now leads HubSpot for Startups and mentors many startups across stages and sectors on growth, go-to-market, and fundraising best practices.
****
Did you know that Bridge for Billions is on a mission to democratize access to early-stage entrepreneurship globally? We offer an incubation mentorship-based program to unlock every founder's potential no matter your country or area of innovation.
And as one of our startups, you can access growth services like HubSpot for startups under very special privileged conditions!
Learn all about it here.
Organizer of The Startup Growth Masterclass Series: Optimizing your marketing for growth
Bridge for Billions is a digital ecosystem of entrepreneurship and innovation programs. Providing the right tools & guidance to early-stage entrepreneurs to develop their companies through a learn-by-doing methodology. 
In the past 5 years we have supported over 2000 entrepreneurs globally and partnered with +100 ecosystem partners such as Ashoka, UNIDO, Coca-Cola, BMW, etc (Universities, Corporations, Foundations or NGOs) to democratize access to entrepreneurship.