Flexible working styles benefit people with disabilities and society at large
About this event
TD BANK GROUP PRESENTS
The Walrus Talks at Home: Inclusion (Part 1)
Four speakers on how work setups that take into account employee differences can create more access for all and increase productivity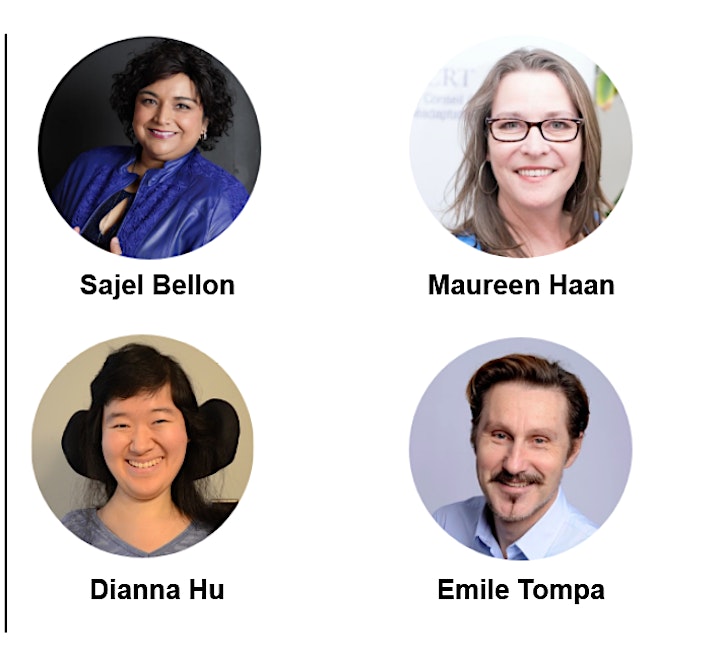 Featuring five-minute talks and Q&A with:
Sajel Bellon, professor, psychotherapist, and founder of Mind Armour & SOS Psychotherapy
Maureen Haan, president and CEO, Canadian Council on Rehabilitation and Work
Dianna Hu, software engineer, Google
Emile Tompa, director, Centre for Research on Work Disability Policy
The Q&A will be moderated by Aimee Louw, TD fellow on disability and inclusion, The Walrus
Tuesday, October 27, 2020
7:00 p.m. ET - The Walrus Talks at Home begins
7:40 p.m. - Moderated Q&A
8:00 p.m. - The Walrus Talks at Home ends
About The Walrus Talks at Home
Inspired by our beloved national live event series, The Walrus Talks at Home brings you the same diversity of expertise and perspectives in a streamlined digital format that you can join anywhere with a Wi-Fi connection. The best part? You'll always have a front-row seat from the comfort of your own home!
These sixty-minute events feature four thought leaders and industry experts talking for five minutes each, offering four different perspectives on topics that will spark conversation on matters vital to Canadians.
If you enjoy The Walrus Talks, consider donating to The Walrus. We are a registered charity that relies on donations to produce compelling journalism, events and podcasts. Until December 31, 2020, all donations will be matched by Diane Blake and Stephen Smith, up to $100,000! Learn more about how you can double your impact at  thewalrus.ca/donate.
We strive to be accessible and inclusive. If you require support to be able to fully participate in this event, please contact events@thewalrus.ca or (416) 971-5004, ext. 245.