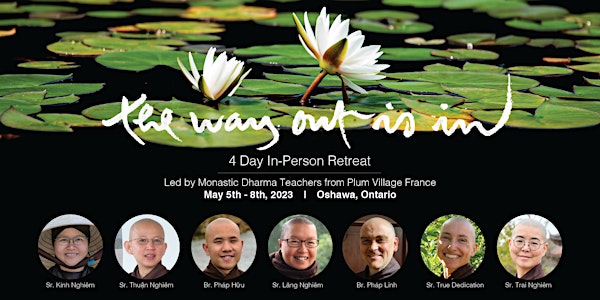 The Way Out Is In: 4 Day In-Person Retreat
Four day in-person mindfulness retreat, led by senior monastic Dharma teachers from Plum Village France
By Plum Village GTA Sanghas
Date and time
Starts on Fri, May 5, 2023 3:00 PM EDT
Location
Durham College, South Village Residence & Conference Centre 32 Commencement Dr Oshawa, ON L1G 8G3 Canada
Refund Policy
Contact the organizer to request a refund.
Eventbrite's fee is nonrefundable.
About this event
The Way Out Is In
May 5-8th, 2023 | Durham College | Oshawa, ON
What: A mindfulness retreat led by monastic Dharma Teachers from Plum Village France.
Who: This retreat is open to adults ages 18 and up.
Where: Durham College, South Village Residence & Conference Centre located at 32 Commencement Dr, Oshawa, ON L1G 8G3.
When: Friday May 5th, 3pm EDT to Monday May 8th, 3pm EDT.
How: Please register and pay via Eventbrite to secure your spot.
Description
This four-day immersive retreat will be held just outside of Toronto, ON, and will be led by senior monastics from Plum Village France. We are invited to come together as a community to cultivate the practice of mindfulness and peace and to take care of our suffering, at both our individual and collective levels.
We will explore how to cultivate clarity, compassion, and courage to meet the crises of our current moment. The path of Engaged Buddhism created by Zen Master Thich Nhat Hanh offers a way to take care of our body and mind so we can respond with strength and insight to create an awakened culture of change within ourselves and the world.
During the retreat, we will have the chance to co-create a nourishing environment through a series of different activities and practices. These activities will include Dharma talks offered by senior monastics, guided sitting meditation, walking meditation, eating meditation, total relaxation (body scan), and Dharma sharing (facilitated mindful listening/speaking groups). When we practice mindfulness collectively over a few days, we can experience the healing and transformative power of our mindfulness practice, which we can then take with us and generate wherever we go.
Noble Silence
This is not a fully silent retreat. We will be observing Noble Silence during some activities and after the last activity of the day. The Noble Silence will end after breakfast the next day.
Silence is a time to not only maintain silence on the outside, but to also quiet the thoughts going on inside our minds. It supports us in deepening our practice of mindfulness and looking into ourselves and our habit energies. As still water reflects things as they are, the calming silence can help us to settle, and to see things more clearly. We support our own practice and the practice of our sangha with our silence. The practice of silence need not be oppressive. Although we do not speak, we can acknowledge the presence of each other with a smile or a bow.
Internet and Phone
During the retreat, please also give your cell phone and Internet a retreat. Only access Internet for urgent purposes. Please remember to put an auto-response on your email and ask friends & family to support your retreat by limiting phone communication.
Retreat Location
Durham College, South Village Residence & Conference Centre is located 70 km, about a 47-minute drive, from downtown Toronto. Public transit is accessible by GO bus, with a GO Bus stop right on campus.
The centre is located at 32 Commencement Dr, Oshawa, ON L1G 8G3.
Accommodations
The South Village Residence - 2-bedroom suites will be used for this retreat (picture below).
Each suite consists of the following:
Two (2) private / separate bedrooms
A kitchenette equipped with a mini-fridge, sink, and microwave.
A three (3) piece washroom with stand up shower.
Bedding, towels, soap, 2-in-1 shampoo/conditioner will be provided.
Thermostat temperature control in each suite.
The air is contained to each individual unit, and each unit has its own filter for circulating air.
Please note: Each bedroom has one (1) double bed and one (1) desk.
Barrier-Free Suites are available upon request (please specify in the last answer in the registration form)
Complementary on-site parking is available for each registered guest.
Notice: Durham College is a SMOKE-FREE campus. Smoking of any kind is not permitted on campus grounds.
Suite Arrangements
There are only 2-bedroom suite options available.
Individuals will be matched based on gender and suite-mate preferences shared in their registration form, unless they book a private suite (available in ticket options, has premium cost).
Sharing a suite with someone you know:
Booking together: Select 'Suite for 2' ticket option. This selection ensures you will be together in the same suite.
Booking separately: indicate the name of the person you would like to share a suite with under "Specific Suitemate Request" in your registration form. The other individual will need to do the same for the match to be completed.
For more images and details on the suites, see below.
Floor plan: South Village Residence suites floor plan (with pictures).
Food
Food for the retreat will be all vegan and prepared and catered by the college. We are unable to prepare any special dishes or meals, but information you provide on registration form will be provided to caterers for allergy labeling. Food is offered only at meal times (see included meals in retreat schedule). You may wish to bring your own light refreshments/snacks.
Scholarships
A limited number of scholarships is available for those who would like to attend but do not have the financial means to do so.
If you wish to request a scholarship, please fill out this form.
The scholarship application deadline is March 13th, 2023.
Dana (Offering of donation)
Recommended/suggested amount: $100/person. Part of this amount helps cover the cost of room and board for the monastics' stay during the retreat. Donations will also be used to help make needed repairs at Plum Village France.
Our dharma teachers and facilitators for this retreat share their knowledge and experience of the teachings with us freely and generously in the spirit of compassion. They receive no compensation for their offering. When we offer dana (offering of donation), we give generously, yet within our means, in the spirit of interbeing; and reflect on the value of the precious gift we have been offered in the transmission of these teachings.
You will have an option prior to payment to indicate if your donation can be used also for retreat scholarships (for those who would like to attend but do not have the financial means to do so). The number of scholarships available will depend on donations provided. Keep in mind that $335 provides a 50% scholarship for one participant.
Tax receipts will be provided for donations of $20 or more by Eyes of Compassion Relief Organization, which is a registered Canadian charity.
Arrivals and Departures
Please plan to arrive at Durham College, South Village Residence & Conference Centre in the afternoon on Friday, May 5, 2023, for check-in between 3:00 pm and 5:00 pm EDT. Departure will be around 3pm EDT on Monday, May 8, 2023.
Arriving and departing are wonderful times to practice mindfulness and calming our habit energies of rushing.
Retreat Schedule
The retreat schedule can be found here.
For participants interested in receiving or renewing The 5 Mindfulness Trainings there will be 5 Mindfulness Trainings Transmission ceremony on Monday, May 8, 6:30am.
Transportation
Public transportation is easily accessible. There is a GO bus stop on campus. If you arrive by car there is free guest parking space for each participant.
The address to insert into your GPS is: 32 Commencement Dr Oshawa, ON L1G 8G3. At the top of this page, there is a map. Below it, there are buttons you can click on to get driving and public transportation directions via Google Maps.
Due to the size of the retreat, we cannot coordinate rideshare. Participants can self-organize rideshare to/from the retreat using this link: http://www.groupcarpool.com/t/d985hs
If you are offering a ride, please specify all the locations/areas you are able to pick-up from.
COVID-19 Policy
At this moment, masks are not required. Participants are welcome to wear masks, if they wish.
If you are sick with COVID-19 or any other infectious illness, please contact organizers right away by emailing pv2023retreatgta@gmail.com
Cancellation Policy
Should you wish to cancel your registration:
A 90% refund less credit card processing fee will be issued if notice is given by March 28th, 2023.
A 75% refund less credit card processing fee will be issued by April 24th, 2023.
If for any reason you need to cancel after April 24th, please email us as soon as possible. However, please understand that if we are unable to fill-in your spot or reduce accommodation/meals with the venue, we will not be able to provide any refund.
Please be aware it may take up to 30 days post-retreat for refunds to be processed.
Eventbrite fees are non-refundable.
More Information
If, after reading this and the FAQ below, you have any further questions about the retreat, you can contact the retreat organizing committee by emailing pv2023retreatgta@gmail.com
More detailed information about the retreat including information on mindfulness practices and what to bring will be sent to you before the retreat.
Warmly,
May 2023 Retreat Organizing Team
Frequently asked questions
Can I register children / teens?
What information do you have on suite heating and cooling?
If I need to cancel my registration. How do I request a refund?
What happens if I need to cancel after April 24th?
Do you have information on directions for driving/public transportation?
Is there parking on-site?
How can I coordinate rideshare with other participants?
How far are the accommodations, facilities and parking from each other?
I would like to share a suite (2 bedrooms) with someone I know. How do I request this?
I would like to share a room (with double bed) with someone I know. What should I do?
Do you have a map of the campus?
What are the accessibility features on campus?
I'm confused about some of the order form questions. What should I do?
What are the 5 Mindfulness Trainings?
What are the 14 Mindfulness Trainings?
Can I volunteer for this retreat? (For instance, assist with outreach, preparation, check-in, etc.)