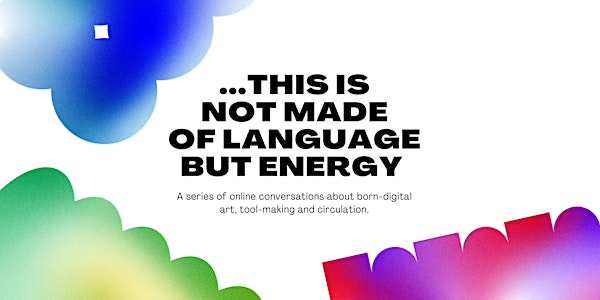 ...this is not made of language but energy
...this is not made of language but energy is a series of four online conversations on born-digital art, tool-making and circulation.
About this event
Art Gallery of York University (AGYU) is pleased to present ...this is not made of language but energy a series of four online conversations occurring November 17 to December 15, 2020. It begins a new stream of programming at the AGYU centered on works of art that are born-digital and primarily experienced online. The series is curated by Clara Halpern, emerging from several years of research studying artists, writers, and curators who critically embrace the experience of art online—its possibilities, as well as its biases and barriers, and considers the art institution's slow relationship to supporting art for the internet.
This series is inspired by the words of artist and writer Mimi Ọnụọha, who writes:
"If artists want to reimagine the web, we must set aside the tendency to subscribe to a universal "us" that is blank, neutral, and anonymous (a.k.a white, Western, and tech-literate). Though the creators of the internet may have inscribed this monolithic into the beginnings of the medium, there is nothing in the cacophony of on/offline lives today that supports it. There is no World Wide Web, but many worlds of webs, wherein different groups with particular aims and interests bump into and overlap with one another. The groups, like the voices they represent, morph and shrink daily. But this is not a bug. There is power in the shifts." *
...this is not made of language but energy is a speculative exploration of our present and future through topics including toolmaking, modes of circulation, frameworks, and more broadly, our digital lives. By the very nature of its subject, this body of research is ever evolving, and we look forward to these conversations with an international group of artists, writers and curators in the weeks to come.
PROGRAM SCHEDULE
Tuesday, November 17, 6pm EST
When all my friends are online at once
A keynote by writer Orit Gat followed by Q & A with Clara Halpern, AGYU Assistant Curator
The session begins with a talk by London-based writer Orit Gat who has written extensively on contemporary art and digital culture. At the culmination of a year in which most of the world population's relationship to their digital lives has changed in ways they could have never imagined, this talk looks back to digital pasts in order to assert that screen-mediated human communication does not lead to less meaningful exchanges. Thinking along three lines in the history of coming together online: the history of chat, the construction of a self online, and representations of the home on the internet, this talk brings together references from art and popular culture, along with a history of different digital platforms in order to explore digital lives in the past and the weird present.
Tuesday, November 24, 6pm EST
Toolmaking
Conversation with Kite (Suzanne Kite), Ashley Jane Lewis, Gary Zhexi Zhang and Taeyoon Choi (moderator).
This conversation brings together artists who explore tool-making in their practices, which range from theorizing, building to teaching and can be summed up by a quote from Gary Zhexi Zhang… "if the web is a built environment increasingly designed and constructed by corporations, tool-making offers users a way to regain some of their lost agency." **
This session is in partnership with InterAccess.
Thursday, December 10, 6pm EST
Frameworks & Futures
Conversation with Tega Brain, Jason Edward Lewis (AbTeC), Tabita Rezaire and Paul Soulellis (moderator).
The artists in this conversation share a criticality of the structures and systems that underpin the internet and the way our data is collected and used. Their work exposes the issues in these larger apparatuses while also proposing alternate frameworks.
Tuesday, December 15, 6pm EST
Circulation & Hybrid Practices
Conversation with Julia Weist and Christina Battle
It is clear in our day to day life that things flow back and forth from online to physical space, but we often think of these spaces in isolation in art: the art gallery, the publication and the web. Artists Christina Battle and Julia Weist share a hybridized process of art-making – creating individual artworks that are experienced both online and offline, moving fluidly between these spaces.
This session is in partnership with Rhizome.
~•~
This series is curated by Clara Halpern, AGYU Assistant Curator, in collaboration with Jenifer Papararo, AGYU Director/Curator, and Orit Gat, independent writer. The series title "this is not made of language but energy" is a quote from a poem by Eileen Myles, Dream 2, from: Poetry, Vol. 203, No. 3, December, 2013.
*Mimi Onuoha, Reenvisioning the Internet: Embrace Its Multiplicity, Walker Reader.
**Gary Zhexi Zhang, Reenvisioning the Internet: Create Tools that Reveal its Ideological Infrastructures, Walker Reader.
For the most up-to-date information on the AGYU's programming and events, please see our website: http://AGYU.art
Acknowledgements
First we would like to offer thanks to the artists, writers and curators who contribute to this program, which is deeply informed by their work. We would also like to thank our partners InterAccess, Toronto and Rhizome, New York City for supporting the presentation of sessions of this program.
The Art Gallery of York University (AGYU) is a public, university-affiliated, non-profit contemporary art gallery supported by York University, the Canada Council for the Arts, the Province of Ontario through the Ontario Arts Council, the City of Toronto through the Toronto Arts Council, and by its membership.
In recognition of our place on the traditional territory of numerous Indigenous Nations, the Art Gallery of York University thanks the Wendat, Haudenosaunee, and Anishinaabek who have and continue to care for this land. This land is the subject of the Dish With One Spoon Covenant and Wampum between the Haudenosaunee Confederacy, the Three Fires Confederacy (the Ojibwe, Odawa, and Potawatomi), and other allied nations in an agreement to share land and its resources. We occupy land referred to in Crown Treaty 13, known as the Toronto Purchase, signed in 1805. Terms of this Treaty were not met by Canada until 2010, when the Federal Government settled the claims of the Mississaugas of the Credit First Nation.
AGYU promotes 2SLGBTQIAP+ positive spaces & experiences and works towards being barrier free.
The AGYU is committed to anti-racism. We work to eradicate institutional biases and develop accountable programs that support Black, Indigenous and People of Colour.
~•~
For press inquiries, please contact Clara Halpern: clarajh@yorku.ca
http://AGYU.art