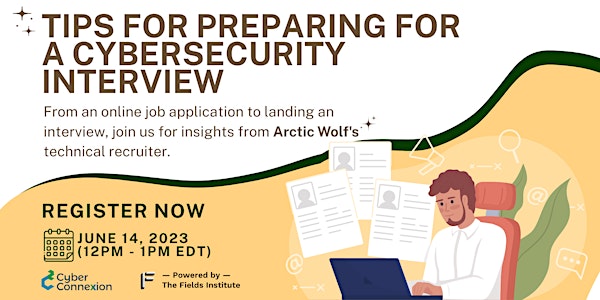 Tips for Preparing for a Cybersecurity Interview!
Hear from a Cybersecurity Hiring Manager what they need to see on a resume and how you can succeed in an interview.
Date and time
Wed, Jun 14, 2023 9:00 AM - 10:00 AM PDT
About this event
Pursuing a new cybersecurity career is a tough market. We can give you key tips on how to get a recruiter to see your application!
Join us to learn tips on getting hired!
In this seminar we will be discussing:
Your resume must haves!
What skills you need listed in your resume & LinkedIn.
What you need to prepare for in an interview.
What to do on following up for the job you applied for.
—-------------------------------------------------------------------
About Cyber Connexion:
The Cyber Connexion Cybersecurity Training Program is powered by The Fields Institute for Research in Mathematical Science. Visit the Cyber Connexion website to sign up for our 16-week Cybersecurity Training Program or to learn more about it before the event.
Program Highlights
Learn key technical cybersecurity skills
Get job-ready skills
Meet and interview with our employer partners
Ongoing job search support from our career coaches
Candidates must reside in and work in Canada to apply to the program.
About the organizer
The Fields Institute is a centre for mathematical research activity - a place where mathematicians from Canada and abroad, from academia, business, industry and financial institutions, can come together to carry out research and formulate problems of mutual interest. Our mission is to provide a supportive and stimulating environment for mathematics innovation and education.
The Fields Institute promotes mathematical activity in Canada and helps to expand the application of mathematics in modern society.