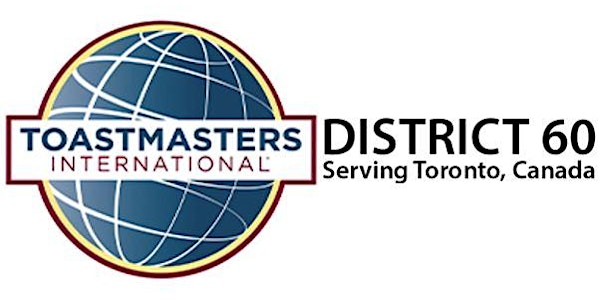 TLI/Club Officer Training, & special keynote presentation - Start With Why!
Join us for Club Officer Training Round 2 and a special presentation exploring the "Why" behind Toastmasters.
About this event
You can't afford to miss our next Toastmasters Leadership Institute event! It will:
bring you bang up to date with our District's progress and news
offer highly focused Club Officer Training that zeroes in on achieving member and club succcess in the next six months
include a wonderful presentation by Lark Doley, past Toastmasters International President, that uses Simon Sinek's principles of "Start with Why" to give us all vocabulary, ideas, strategies and motivation to achieve more in the next six months.
Why did you join Toastmasters? Why do you stay?
Simon Sinek is an internationally recognized speaker and author of five books, including "Start with Why – How Great Leaders Inspire Everyone to Take Action", which inspired Lark Doley to create this presentation. We will explore the "Why" behind Toastmasters and our membership in this organisation, and learn about the MIDAS touch based on heart-led leadership.
If you want to be reinvigorated and help new members discover why Toastmasters can help them achieve their goals, this presentation is for you!
Distinguished Toastmaster Lark Doley served as the 2018-19 Toastmasters International President. She worked as a Marketing Manager for Texas Instruments, then owned her own computer peripheral hardware manufacturing business for twelve years, and finally retired in March 2021 after working as a Training Manager for Maximus. Her lighthouse home was built by her late husband Roger Storer in honor of her late father-in-law Arthur Storer. Both Roger and Arthur were born in Nottingham, England, where they acquired their love of the sea, and both were active members of Toastmasters. A Toastmaster herself since 1990, Lark often wears Golden attire at Toastmasters events to signify the Golden benefits of Toastmasters.
Agenda
9.00-9.30am Log-on
9.30-9.35 Welcome
9.35-10.00 What We're Seeing in District 60 - Celebrations and Challenges
10.00-10.50 Lark Doley: "Start With Why"
10.50-11.00 Break
11.00-12.30 Focused COT by role and club type (community/corporate)